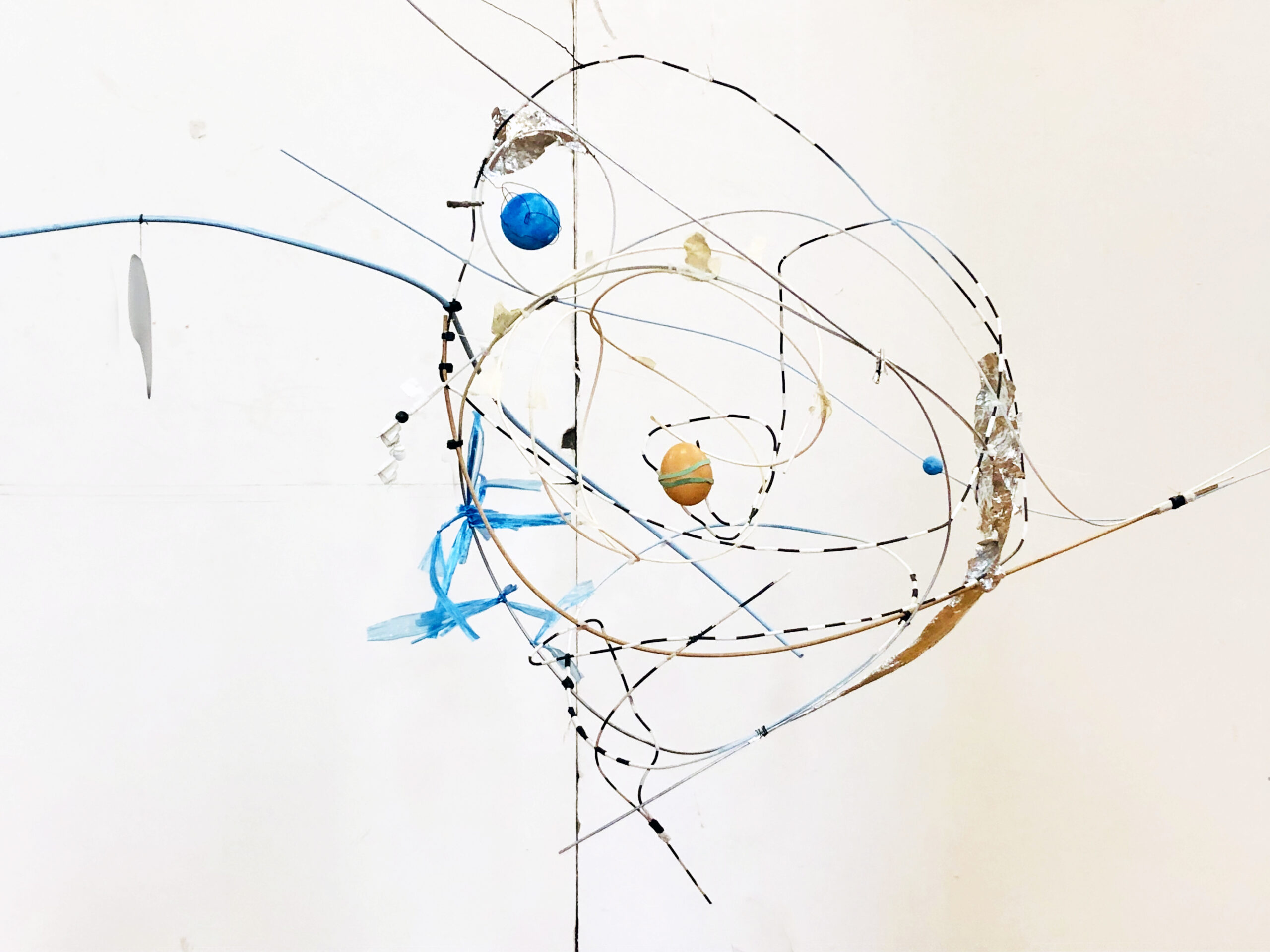 Nikolaus Gansterer
Paradigm for the gravity of latency, 2019
Mobile, wire, bamboo, rattan, aluminium, tape, color
150 × 100 × 60 cm
CIRCULATION – curated by Goschka Gawlik & Arkadiusz Półtora
While I Kiss The Sky
Débora Delmar  Nikolaus Gansterer  Alicja Kwade  Natalia LL  Laszlo Moholy-Nagy  Katja Novitskova  Otto Piene  Sung Tieu  Guan Xiao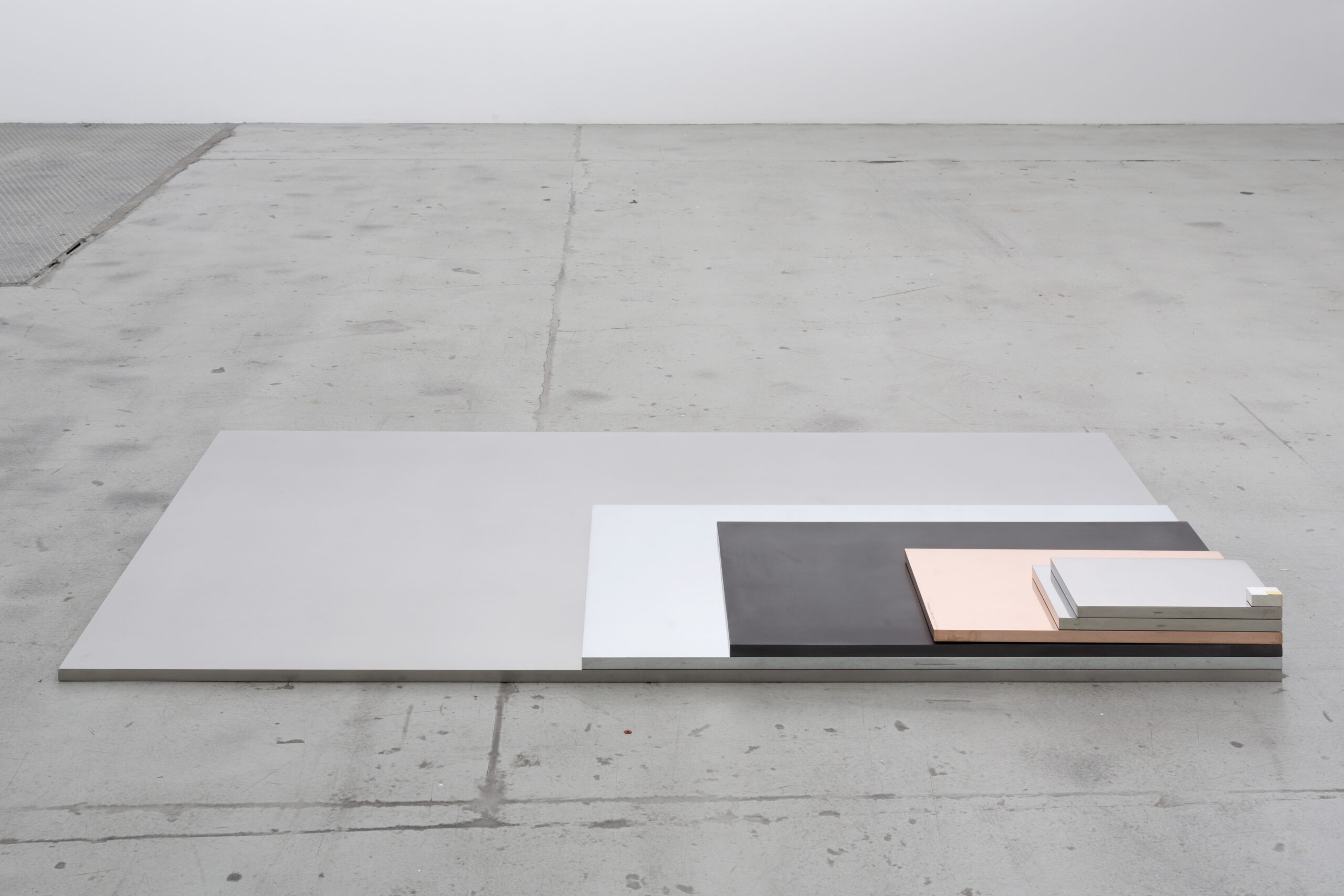 Alicja Kwade
Donnerstag, 13. März 2014, 11:21:00 Uhr, 2014
aluminium, zinc, lead, copper, nickel, tin, silver, gold
14.2 x 190 x 117 cm
Als Jimi Hendrix 1967 seine Single Purple Haze veröffentlichte, hatte er nicht vor, ein Manifest für Pop-Umweltschützer*innen herauszugeben – doch genau so wurde das Lied vom ungarisch-amerikanischen Künstler György Kepes gelesen. In dem Aufsatz Art and Ecological Consciousness von 1969 interpretierte der Gründungsdirektor des Center for Advanced Visual Studies am MIT den Refrain des Hits – "Excuse me while I kiss the sky" – als Ausdruck der "Hoffnungen einer reicheren, wachsenden Welt" und des Ärgers über die "kurzsichtige Selbstsucht" der Menschheit. Zu Zeiten der ersten Weltraumfahrten, der Entwicklung erster Netzwerkmedien und der Geburtsstunde des planetarischen Kapitalismus bestand Kepes darauf, dass die geschlossenen Kreisläufe des Informationsflusses und des wirtschaftlichen Austauschs auf der Erde so konzipiert werden müssen, als ob sie von außen erlebt würden. Kepes war der Ansicht, dass Künstler wie Jimi Hendrix sich für die Aufgabe eignen, die egozentrische Wahrnehmung des modernen Menschen zu dissoziieren, indem sie es zum einen gleichzeitig von innen und von außen betrachten und sich zum anderen mit den 'human affairs' befassen, sowie auch die Existenz von Temporalitäten, Räumen und anderen Mitteln, betreffend das Hier und Jetzt der Modernität, anerkennen.
Heute durchdringen dissoziative Konzeptualisierungen von Subjektivität das erweiterte Feld der bildenden Kunst. Für die Ausstellung The Whole Earth im Haus der Kulturen der Welt (2013) haben die Kuratoren Anselm Franke und Diedrich Diederichsen eine Werkübersicht zusammengestellt, in der das Erleben globaler, technologisch erleichterter Konnektivität als immersiv und abstrakt, inklusiv und dissoziierend zugleich diskutiert wurde. In diesem Jahr schlugen die KuratorInnen der Sharjah Biennale einen ähnlichen Ton an. Sie behandelten die zeitgenössische Medienökologie als "einen Raum, in dem Geräusche eintreffen und widerhallen, in dem Erinnerung und Imagination über die Oberfläche schallen" und ermutigten die Besucher, über diese undurchlässige "Echo Chamber" hinauszuschauen. In den Werken vieler zeitgenössischer Künstler*innen werden die drohende ökologische Katastrophe sowie global relevante soziale Fragen im Rahmen einer posthumanen, planetarischen Perspektive interpretiert.
Die Ausstellung While I Kiss the Sky zeichnet den Weg der dissoziativen Ästhetik im letzten Jahrhunderts nach. Chronologisch gesehen beginnt der Überblick mit den experimentellen Fotografien von Laszlo Moholy-Nagy – ein Mentor und enger Freund von György Kepes. Seine Aufnahmen aus den 1940ern zeugen von den drastischen Veränderungen, die die menschliche Erfahrung an der Schwelle zur elektrifizierten, technowissenschaftlichen Welt durchlebte. Ein Video aus dem Jahr 1968 von Otto Piene (Electronic Light Ballet), ebenfalls ein Kollege von Kepes, und ein Film aus dem Jahr 1980 von Natalia LL (Points of Support) bieten zwei konkurrierende Perspektiven auf die posthumane, planetarische Vision. Während Ersteres vor allem durch technowissenschaftliche Entwicklungen vermittelt wird, ist Letzteres spiritueller Natur und greift auf die antike Wissenschaft der Astrologie zurück. In den Werken einer neuen Künstler*innengeneration scheinen sich das Wissenschaftliche und das Geistige zu überschneiden, wodurch sie einen vielseitigen und ganzheitlichen Blick auf die globale Modernisierung inspirieren.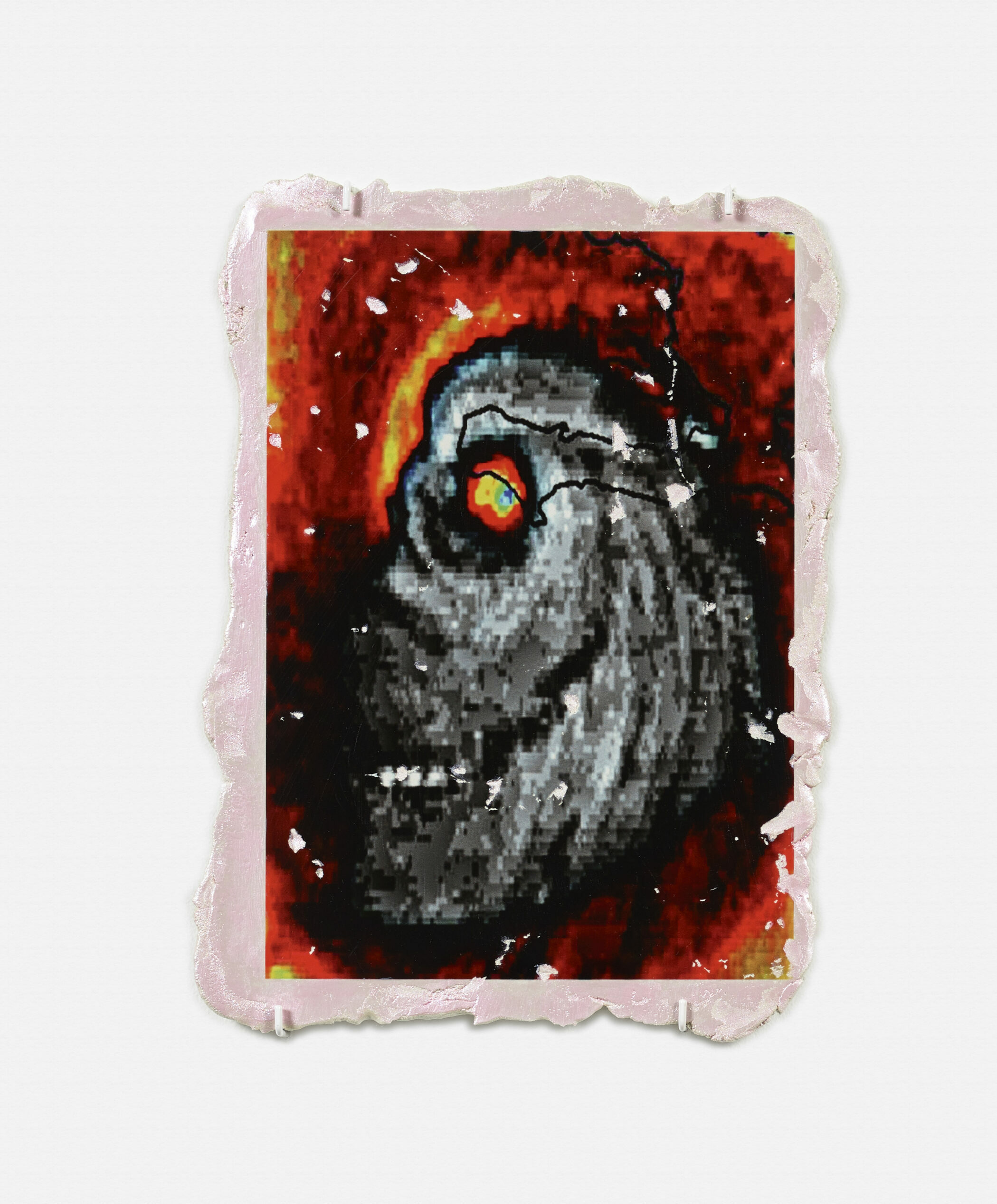 Katja Novitskova
Annual Report (Alphabet) (I), 2018
UV printer ink, epoxy clay, nail polish
34 x 25 x 1 cm
unique
Photo: def_image
Courtesy: the artist; Kraupa-Tuskany Zeidler, Berlin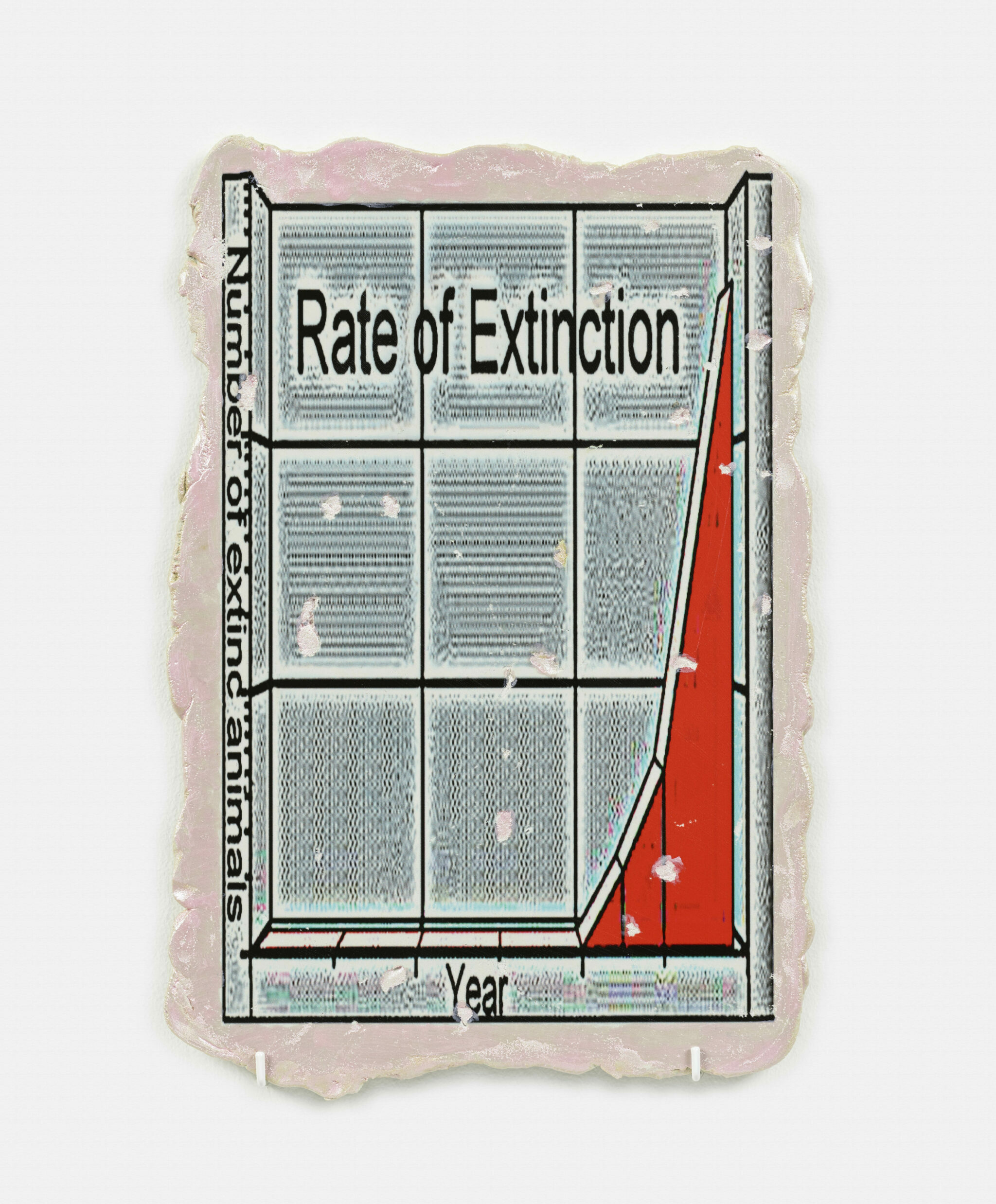 Katja Novitskova
Annual Report (Rate of Extinction) (IV), 2018
UV printer ink, epoxy clay, nail polish
34 x 25 x 1 cm
unique
Photo: def_image
Courtesy: the artist; Kraupa-Tuskany Zeidler, Berlin
When Jimi Hendrix released Purple Haze in 1967, he did not intend to issue a pop-environmentalist manifesto – yet this was precisely how the song was read by the Hungarian-American artist György Kepes. In the 1969 essay Art and Ecological Consciousness, the director of MIT's Center for Advanced Visual Studies interpreted the refrain of Hendrix's hit record – "Excuse me while I kiss the sky" – as an expression of "hopes of the richer, expanded world" and anger at humankind's "short-sighted selfishness". Testifying to the first cosmic journeys, advance of first network media and birth of planetary capitalism, Kepes insisted that the closed circuits of information flows and economic exchange on the Earth must be re-imagined as if experienced from the outside. It was artists like Jimi Hendrix that Kepes saw fit for the task of dissociating the modern human's self-centered perception of the world – trying to see it from within and beyond at once; staying engaged in the human affairs while acknowledging the existence of the temporalities, spaces and agencies that surpass the "here and now" of modernity.
Nowadays, dissociative conceptualizations of subjectivity pervade the expanded field of visual arts. In a 2013 exhibition at Haus der Kulturen der Welt, The Whole Earth, curators Anselm Franke and Diedrich Diederichsen compiled a survey of works that discuss the experience of global, technologically facilitated connectivity as immersive and abstract at once, simultaneously "engaging" and dissociated. This year, the curators of Sharjah Biennial hit a similar note. They discussed the contemporary media ecology as "a space wherein sound hits and reverberates, where memory and imagination echo across surface", and encouraged the biennial's visitors to look beyond this opaque "echo chamber". In works of many contemporary artists, the impending ecological catastrophe and globally relevant social issues are framed within a posthuman, planetary perspective.  
The exhibition While I Kiss the Sky traces the dissociative aesthetics' development throughout the last century. Viewed chronologically, the survey begins with experimental photographs by Laszlo Moholy-Nagy, a mentor and close friend of György Kepes. Taken in 1940s, his shots testify to the drastic changes that human experience underwent at the threshold of the electrified, techno-scientific world. A 1968 video by Otto Piene (Electronic Light Ballet), another collaborator of Kepes, and a 1980 film by Natalia LL (Points of Support) provide two competing perspectives on posthuman, planetary vision; while the former is heavily mediated by techno-scientific developments, the latter is more spiritual and harks back to the ancient science of astrology. In works of a new generation of artists the scientific and the spiritual tend to intersect – thereby inspiring an eclectic, holistic outlook on the planet-wide modernization.