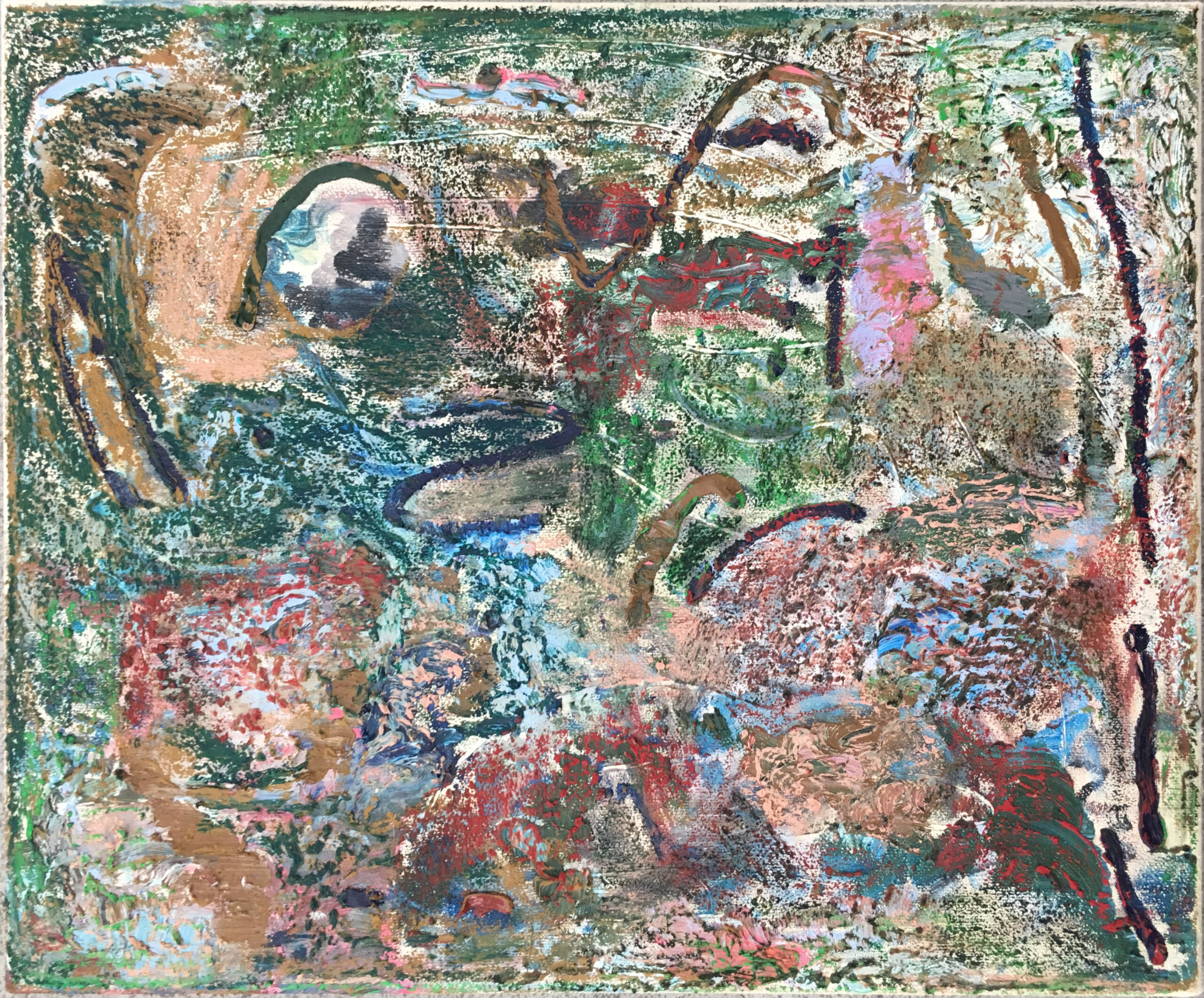 Adrian Buschmann
traurige deutsche Landschaft, 2018
32 x 42 cm
Öl und Ölkreide auf Leinwand
Adrian Buschmann  Andy Hope 1930  Richard Hoeck  Hans-Jörg Mayer  Oswald Oberhuber  Michael Riedel  Hans Weigand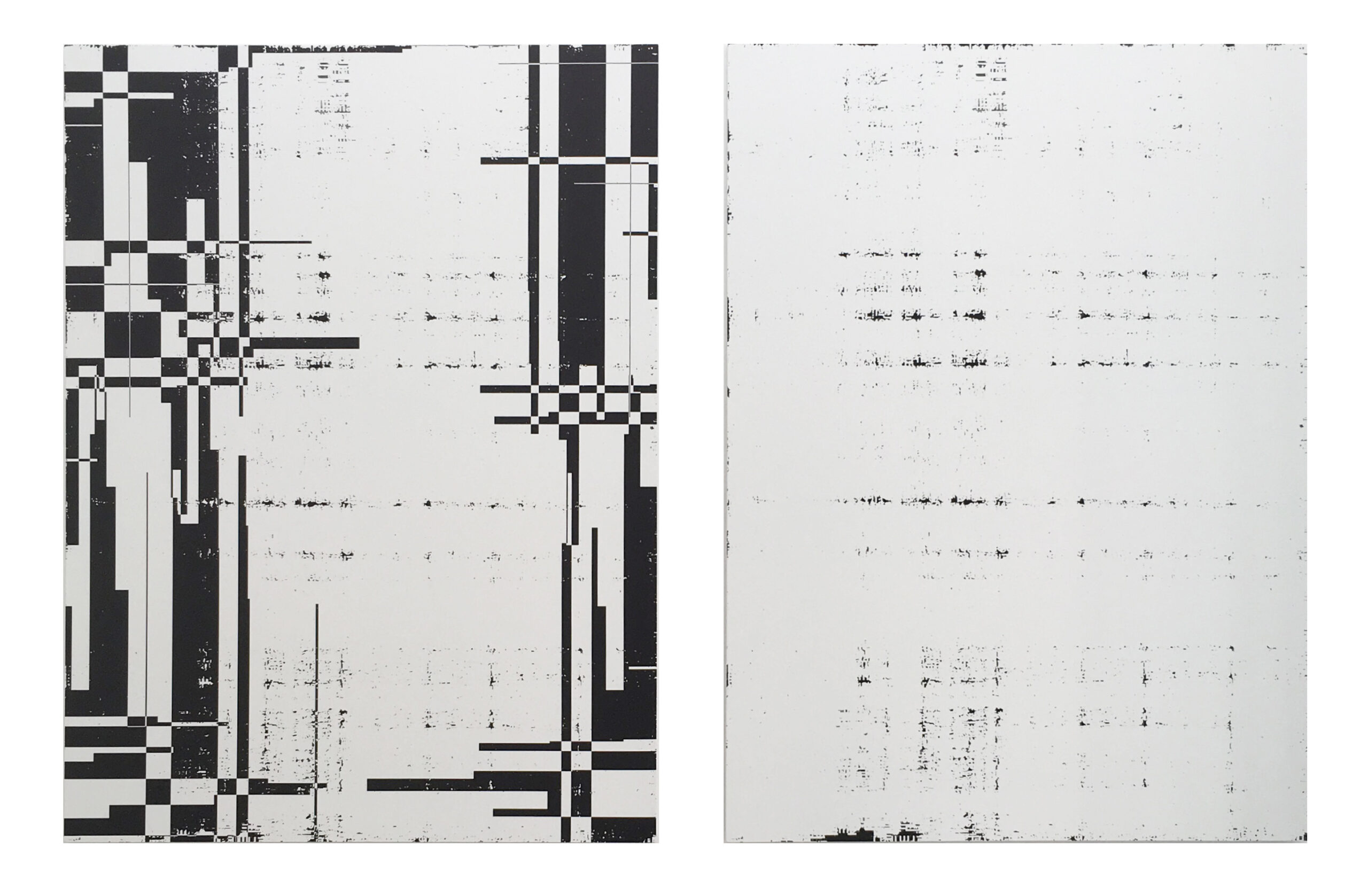 Michael Riedel
Ohne Titel (Art Material Select), 2017
Tintenstrahldruck auf Leinwand
Ohne Titel (Art Material), 2017
Tintenstrahldruck auf Leinwand
je 230 x 170 x 3 cm
Die Malerei von Adrian Buschmann (* 1976 in Kattowitz, Polen) lässt sich ins Abstrakte einordnen und rückt ästhetische Gesichtspunkte in den Vordergrund. Seine dabei stark von zeichnerischer Expertise gekennzeichneten malerischen Arbeiten sind darüber hinaus jedoch geprägt von dem Gedanken des Erschaffens einer alternativen Welt. Diesen Status erreichen Bilder für ihn, indem das Kunst- und Betrachtungsmaterial durch einen Prozess des Denkens und Fühlens einer Filterung unterzogen werden soll.
Andy Hope 1930 (*1963 in München) kombiniert konzeptuelle Methoden mit einer radikal repräsentativen Praxis, wofür er verschiedenste Medien aktiviert: von der Malerei über Zeichnungen, Reliefen zu Skulpturen, von der Grafik über Propaganda- und Werbeträger bis hin zum Film. Seine Arbeiten bestehen dabei aus Assemblagen, die Facetten von Geschichte, Macht und Popkultur unterschiedlich beleuchten, wofür er häufig Figuren wie Superhelden, Monster, Phantome und Dinosaurier einsetzt. Bereits durch seinen Künstlernamen – eine anglisierte Form von Andreas Hofer, kombiniert mit einer Rückversetzung seiner eigenen Künstlerpersönlichkeit in das Jahr 1930 – wird sein Anspruch ersichtlich die Vergangenheit mit der Zukunft zu vergleichen und sie als eine Form von Vergessenheit neu zu erzeugen – und mit einem Hauch an Hoffnung anzureichern.
John C. Welchman, Past Realization: Essays on Contemporary European Art XX–XXI, Bd. I, Sternberg Press, Berlin 2016, S. 23–24 (Einleitung)
Richard Hoeck (*1965 in Hall in Tirol) beschäftigt sich selbstreflexiv mit der Repräsentation amerikanischer Kunst, allerdings aus europäischer Perspektive betrachtet. Hoeck arbeitet in verschiedensten Medien – beispielsweise mit Skulptur, Siebdruck, Video, Installation, Fotografie. Seit 2006 beschäftigt er sich immer wieder mit dem Missbrauch von Suchtmitteln und den Folgen des aggressiven Pharmageschäfts in den USA. Die gezeigte Arbeit Painting Death stellt dabei ein Detail einer älteren Verpackung des Schmerzmittels FENTANYL dar und spielt mit der visuellen Information von "narcotic drugs", wobei er sie durch die Methode des Spraypaintings auf eine abstrakte und plakative Art und Weise abbildet.
Schon die frühe künstlerische Tätigkeit von Hans-Jörg Mayer (*1955 in Singen, Deutschland, lebt und arbeitet in Berlin) war von einem emblematischen Ansatz geprägt, der sich anfänglich in seinen Schriftbildern äußerte. Bis heute blieb diese sprachliche Konstante im Werk Mayers erhalten und stellt für ihn eine Form des ästhetischen Verfahrens dar, die sich im Laufe der Zeit verändert; damit allerdings auch ein Mittel wird, um sich zur jeweiligen Zeit zu verhalten. Mayers Peitsche, die durch ihren Titel eine semantische Umdeutung erfährt und damit für den Betrachter zu einem hinterfragbaren versprachlichten Motiv wird, ist Teil ganzer Blumenserien. Diese Serien zeigen den Prozess bis hin zum Verwelken der jeweiligen Pflanze.
Die Vielfältigkeit von Oswald Oberhubers (*1931 in Meran, Südtirol) Werk generiert sich aus dem Verständnis der permanenten Veränderung und steht somit für den radikalen Bruch mit der Idee eines einheitlichen, stilistisch durchgängigen Oeuvres. Großartig sind seine Zeichnungen, Malereien und Skulpturen kommend aus dem Informellen bis hin zur Auflösung der Form. Oberhubers Idee der Abstraktion und des spontanen Unbewussten spiegelt in Gips, Draht und anderen fragilen Materialien radikal seine Formensprache wider.
Seit den späten 1990ern entwickelt Michael Riedel (*1972 in Rüsselheim, Deutschland, lebt und arbeitet in Frankfurt) seine selbsterhaltende künstlerische Produktion weiter, bei der neue Arbeiten aus bestehendem Material in scheinbar endlosen Schleifen und Kombinationen generiert werden. Während seine Praxis Malerei, Text, Audio, Video, Fotografie, Publishing, Architektur und Performance umfasst und auf den ersten Blick eine konzeptuelle Affinität mit Pop und Appropriation Art zu teilen scheint, stellt sie in Wirklichkeit eine Abkehr von den Problemen der mechanischen Reproduktion und Simulakren dar, mit denen ältere Generationen beschäftigt waren. In den hier gezeigten Arbeiten benutzt Riedel frei verfügbare Texte von Webseiten verschiedener Fachmärkte für Künstlerbedarf, die er sich als eigenes Kunstmaterial aneignet.
Hans Weigand (*1954, lebt und arbeitet in Wien und Tirol) hat in einem weiten Betätigungs-feld eine charakteristische Bildsprache entwickelt, mit der er in unterschiedlichen Medien wie digital bearbeiteter Malerei über Fotografie, Computergrafik, Film- und Videoarbeiten bis hin zu großangelegten Installationen die kulturelle Identität der modernen Gesellschaft kommentiert und interpretiert. Zu den wiederkehrenden Wellen stoßen wiederbelebte Ur-Techniken und Motive in Form von Holzschnitt und Malerei. Die Kunstform des Holzschnitts wurde durch Weigands Bedürfnis nach Entschleunigung hervorgerufen und hilft dabei seine metaphorische Reflexionen der Gegenwart zu umschreiben. Die Idee des Altars wurde hier ganz bewusst gewählt. Diese mediale Geschichtsüberblendung aus Versatzstücken der Fantasy- und Trivialkultur stülpt Medienbilder der Gegenwart über die Inhalte vergangener Prophezeiungen, wodurch der kunsthistorische Inbegriff der Apokalypse entmystifiziert wird.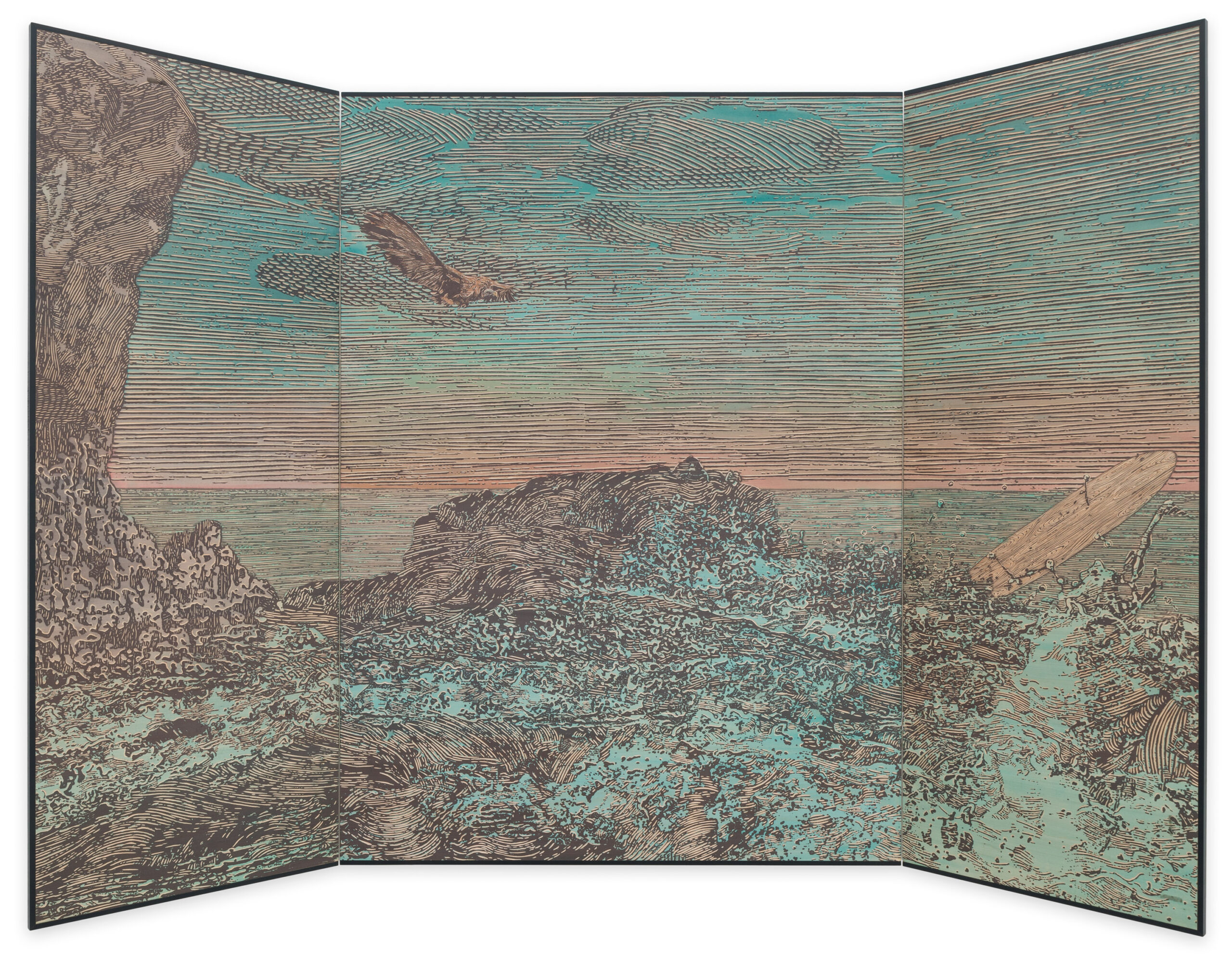 Hans Weigand
Ohne Titel, 2018
Mischtechnik auf Druckstock
172,5 x 125 x 4 cm/
172,5 x 250 x 2 cm
Adrian Buschmann's art (*1976 in Katowice, Poland) can be classified as abstract. It focuses on the aesthetic and is characterized by his expert skill on the one hand, but also by the idea of creating an alternative world on the other. His images achieve this status by having the art and viewing material filtered through a process of thought and feeling.
Richard Hoeck (*1965 in Hall in Tyrol) self-reflexively deals with the representation of American art from a European perspective. Hoeck works with a variety of media including sculpture, screen-printing, video, installation and photography. Since 2006, he has repeatedly dealt with the issue of drug abuse and the consequences of the aggressive US pharma industry. His exhibited piece, Painting Death, shows details belonging to an older piece of packaging from the painkiller FENTANYL. It toys with the visual information of "narcotic drugs". He does this strikingly and in an abstract way by using spray paints.
Andy Hope 1930 (*1963 in Munich) combines conceptual methods with a radically representative mode of working. He does this by using various media, including painting, drawing, reliefs, sculpture, graphics, propaganda, advertising media and film. His pieces are assemblages that shed light on facets of history, power and pop culture, whereby he often uses figures such as superheroes, monsters, phantoms and dinosaurs in his work. He aspires to compare the past and the future and to recreate this as a form of something forgotten and also to infuse it with some hope. This ambition is apparent in his pseudonym, which is an anglicized form of Andreas Hofer that is combined with a return of his own artistic personality to the year 1930.
John C. Welchman, Past Realization: Essays on Contemporary European Art XX–XXI, Bd. I, Sternberg Press, Berlin 2016, P. 23–24 (introduction)
Hans-Jörg Mayer's (*1955 in Singen, Germany, lives and works in Berlin) early artistic work was already characterized by an emblematic approach, which was initially expressed in his typography. This linguistic constant has remained in Mayer's work until the present day and embodies a form of the aesthetic process for him that changes over time; it thus also becomes a means to write in way that is appropriate to the relevant time. Mayer's "Peitsche" ("whip"), which undergoes semantic reinterpretation in its title and thus becomes a questionable, linguistic motif for the viewer, is part of whole floral series. These series show the process up until the withering of the respective plant.
The diversity of Oswald Oberhuber's (*1931 in Meran, South Tyrol) work is generated by the understanding of permanent change and thus signifies a radical break with the idea of ​​a uniform, stylistically consistent oeuvre. His impressive drawings, paintings and sculptures range in their origins from Art Informel to the dissolution of form. Oberhuber's idea of ​​abstraction and the spontaneous unconscious is radically reflected in its stylistic idiom in plaster, wire and other fragile materials.
Hans Weigand (*1954, lives and works in Vienna and Tyrol) has developed characteristic imagery in a wide field of activity. This imagery comments upon and interprets the cultural identity of modern society. Digitally processed painting, photography, computer graphics, film and video pieces, as well as large-scale installations are amongst the media he uses. Revived old techniques and motifs such as woodcut and painting join the recurrent waves. Weigand's turned attention to woodcutting stems from his need for deceleration. He also uses it to help him describe his metaphorical thoughts on the present. The idea of ​​the altar was deliberately chosen here. This medial superimposition of stories from fragments of fantasy and trivial culture is superimposed on present-day media images, which are in turn superimposed on content of past prophecies, thereby demystifying the art-historical embodiment of the apocalypse.
Michael Riedel (*1972 in Rüsselsheim, Germany, lives and works in Frankfurt) has been developing his self-sustaining artistic production since the late 1990s. In it, new pieces are made into seemingly endless loops and combinations from existing material. While his work encompasses painting, text, audio, video, photography, publishing, architecture and performance, and initially seems to share a conceptual affinity with pop and appropriation art, it is really a departure from the problems of mechanical reproduction and simulacra that older generations had focused on. In the works shown here, Riedel uses freely available texts – found on websites belonging to a range of specialist artists' stores – for his own art material.