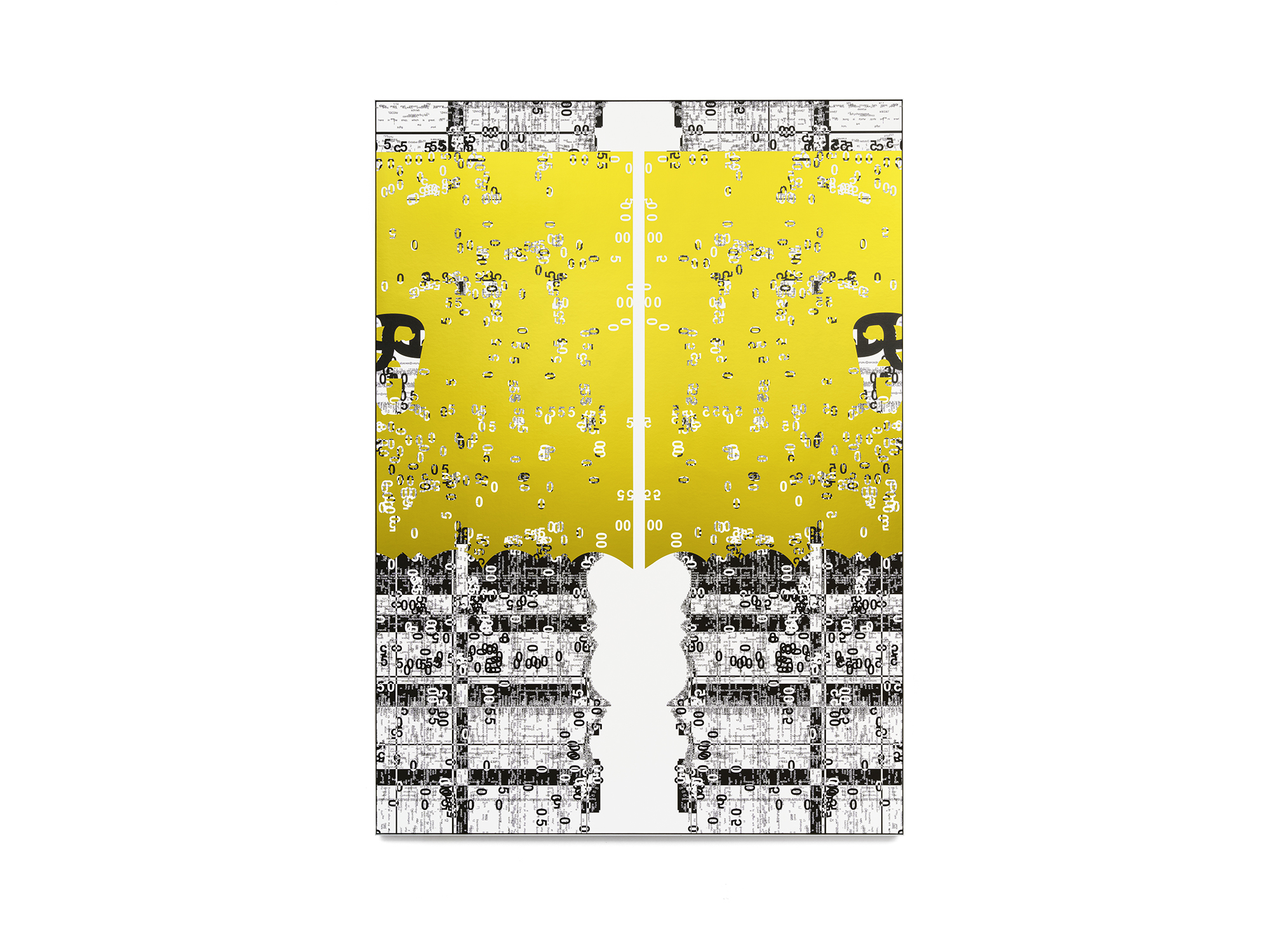 Michael Riedel
Ohne Titel (Patterned Pattern, Frozen Chrome Golden Lemon), 2022
LED-Direktdruck auf Passepartoutkarton, Hochleistungsfolie
243,6 x 174,6 cm
"Da trat ich auf den Weltbalkon und rief: Ich habe einen schwarzen Stock gefunden, er hing als Ast, der abgefallen war, von der Linde hier im Hof, von ihren Blättern in der Luft gehalten, frei schwebend über dem Boden. Ich griff danach und nahm den Stock. Meinen Schlüsselbund habe ich dabei verloren. Ich fügte erklärend hinzu, es gehe mir um inhaltliche Dünnheit, fast schon Leere, ich sähe mich als abstrakter, nichtgegenständlicher Produzent von Wortresultaten, von der Inhaltsüberladenheit der Kunstwerke angewidert. Der Stock stehe jetzt hier auf dem Regal, neben dem Globus und dem Buch Aufbruch und Krise. Leute, rief ich, das schaut echt gut aus. Check–it–out." – Rainald Goetz (Klage)
Michael Riedel (*1972) ist ein deutscher Künstler und Verfasser zahlreicher Texte.
In seiner neuen Serie von Druckgrafiken greift er die als .emlx-Dateien erhaltene E-Mail-Korrespondenz der Jahre 2oo4–2o17 mit seiner New Yorker Galerie auf, die er in Form von Geldscheinen ungekürzt veröffentlicht hat.
Die 43 Grafiken, in den gängigen 5- bis 5oo-Euro-Formaten in einer Auflage von je 1o.ooo Scheinen, entstanden 2017 anlässlich seiner Ausstellung im Geldmuseum der Deutschen Bundesbank, was den Druck auf original Notenbankpapier ermöglichte. Fortan ist Riedel damit beschäftigt, das Geld loszuwerden bzw. aus dem vielen Geld – 45 Millionen Riedels – noch sehr viel mehr Geld zu machen. Der Schriftverkehr zwischen Künstler und Galerie, dessen Motivation letztlich der Verkauf von Kunstwerken war, wird angeboten als Portemonnaie-Editionen (4.490,- exkl. MwSt.) und an speziellen Geldscheinautomaten können per EC-Karte die Grafiken ohne Galeriebeteiligung gezogen werden.
Die beeindruckenden großformatigen Drucke aus vergrößerten und musterartig zusammengesetzten Ausschnitten der Geldscheingrafiken, für deren Oberflächenveredelung hochwertige Metallic-Effekt Folien sorgen.
Riedels Interesse gilt vordergründig der Grafik (Look) und, gegeben durch die Vorder- und Rückseite der Geldscheine, dem Arrangieren des zweiseitigen Materials zu Musterflächen des Erfolgs (Patterned Pattern).
Begleitend ist bei Spector Books die Erzählung Abstract erschienen. Abstract ist die pointenreiche Zusammenfassung des langjährigen E-Mail Austauschs – mit 43 Abbildungen der Geldbündel, die dem inflationären Verlangen nach Werkabbildungen Rechnung tragen. Heißfoliengeprägt und erneut editiert.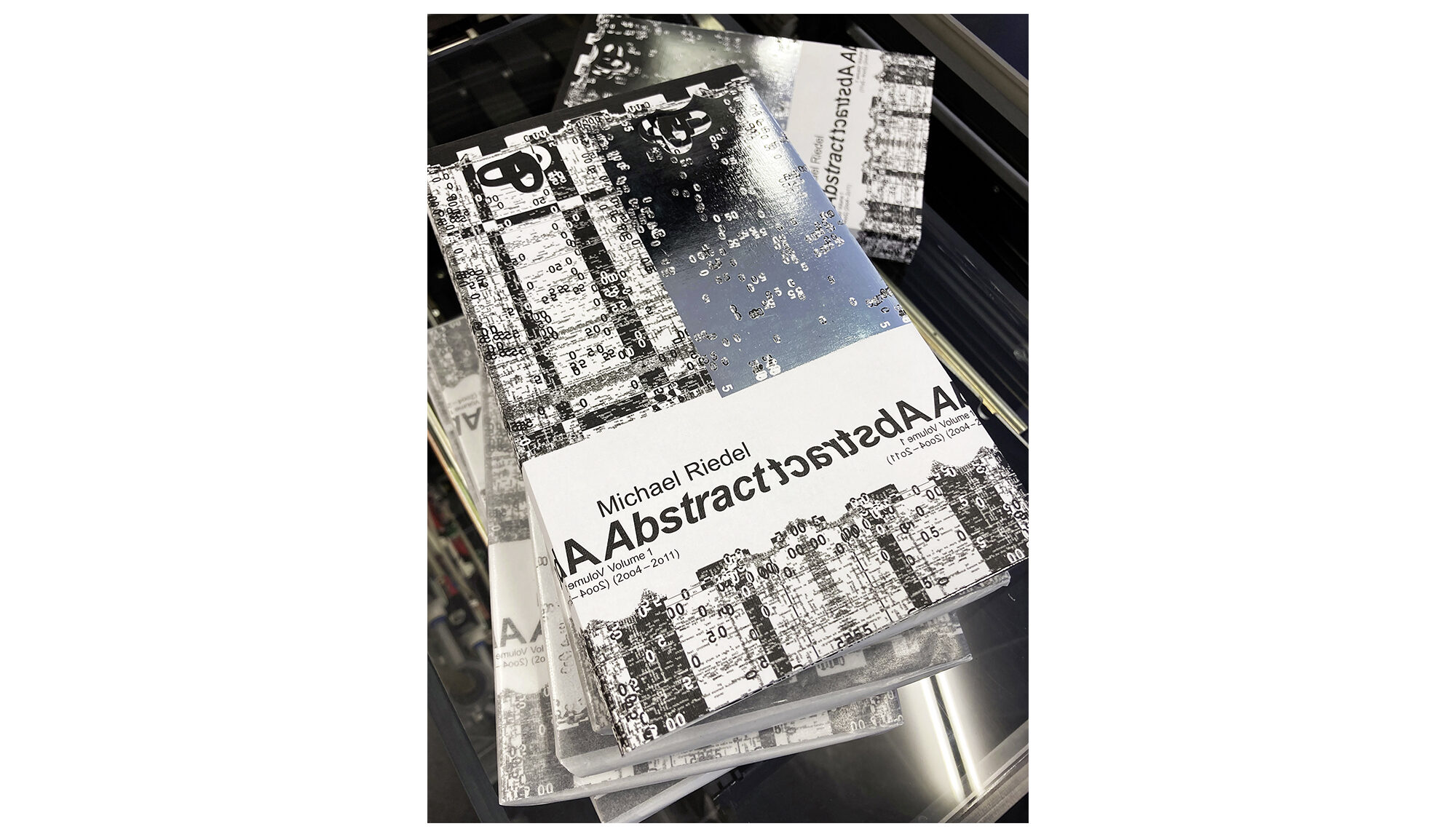 Michael Riedel
Abstract, 2022
Spector Books
Michael Riedel (*1972) is an artist and author of numerous texts.
In his new series of prints, he takes up the e-mail correspondence of the years 2oo4-2o17 with his New York gallery, preserved as .emlx files, which he has published uncut in the form of bank notes.
The 43 prints, in the common 5 to 5oo euro formats in an edition of 1o,ooo notes each, were created in 2017 on the occasion of his exhibition at the Geldmuseum of the Deutsche Bundesbank, which made it possible to print them on original central bank paper. From then on, Riedel is busy getting rid of the money or making a great lot more money out of the lot of money – 45 million Riedels. The correspondence between the artist and the gallery, whose motivation was ultimately the sale of artworks, is offered as wallet editions (4,490.- excl. VAT) and at special cash machines the prints can be drawn by EC card without gallery involvement.
The impressive large-format prints of enlarged and patterned cut-outs of the banknote graphics, whose surface is refined with high-quality metallic-effect foils.
Riedel's interest lies primarily in the graphic (look) and, given the front and back of the banknotes, in the arrangement of the two-sided material into patterned surfaces of success (Patterned Pattern).
The accompanying narration Abstract has been published by Spector Books. Abstract is the punchy summary of many years of email exchanges – with 43 illustrations of the bundles of money, taking into account the inflationary demand for illustrations of art works in art books. Hot foil stamped and re-edited (price on request).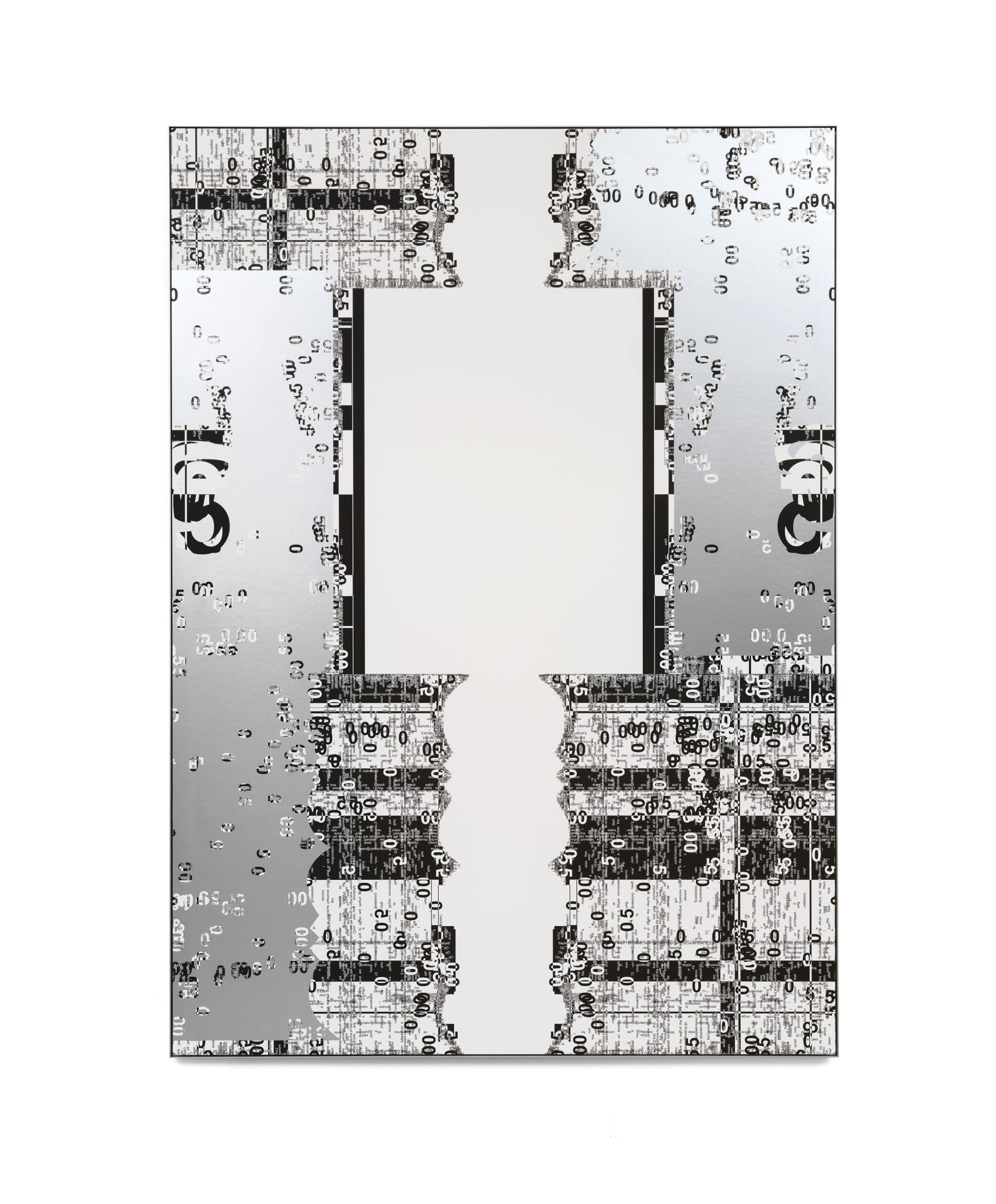 Michael Riedel
Ohne Titel (Patterned Pattern, Frozen Chrome Aluminium), 2022
LED-Direktdruck auf Passepartoutkarton, Hochleistungsfolie
243,6 x 174,6 cm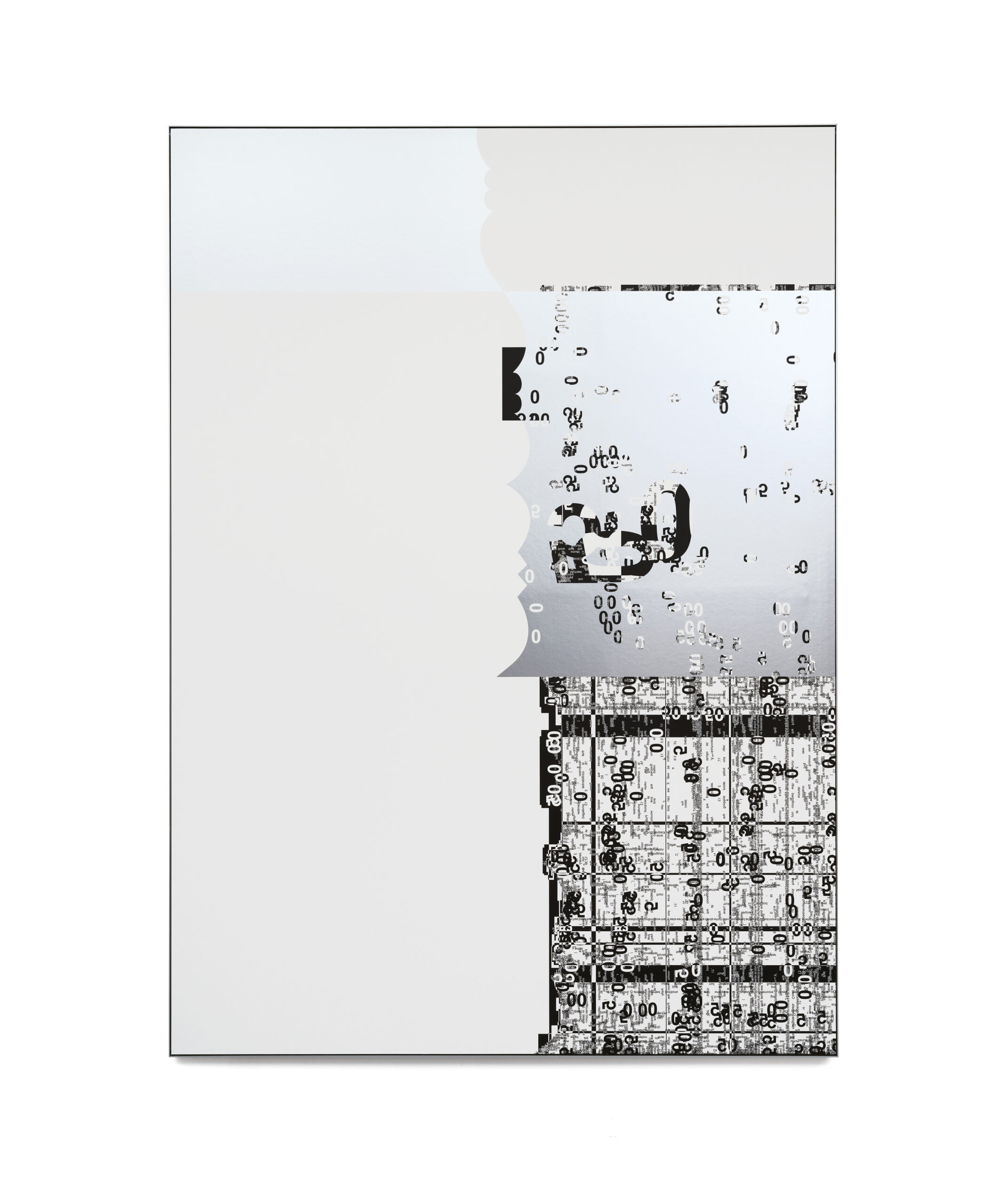 Michael Riedel
Ohne Titel (Patterned Pattern, Frozen Chrome Aluminium), 2022
LED-Direktdruck auf Passepartoutkarton, Hochleistungsfolie
243,6 x 174,6 cm