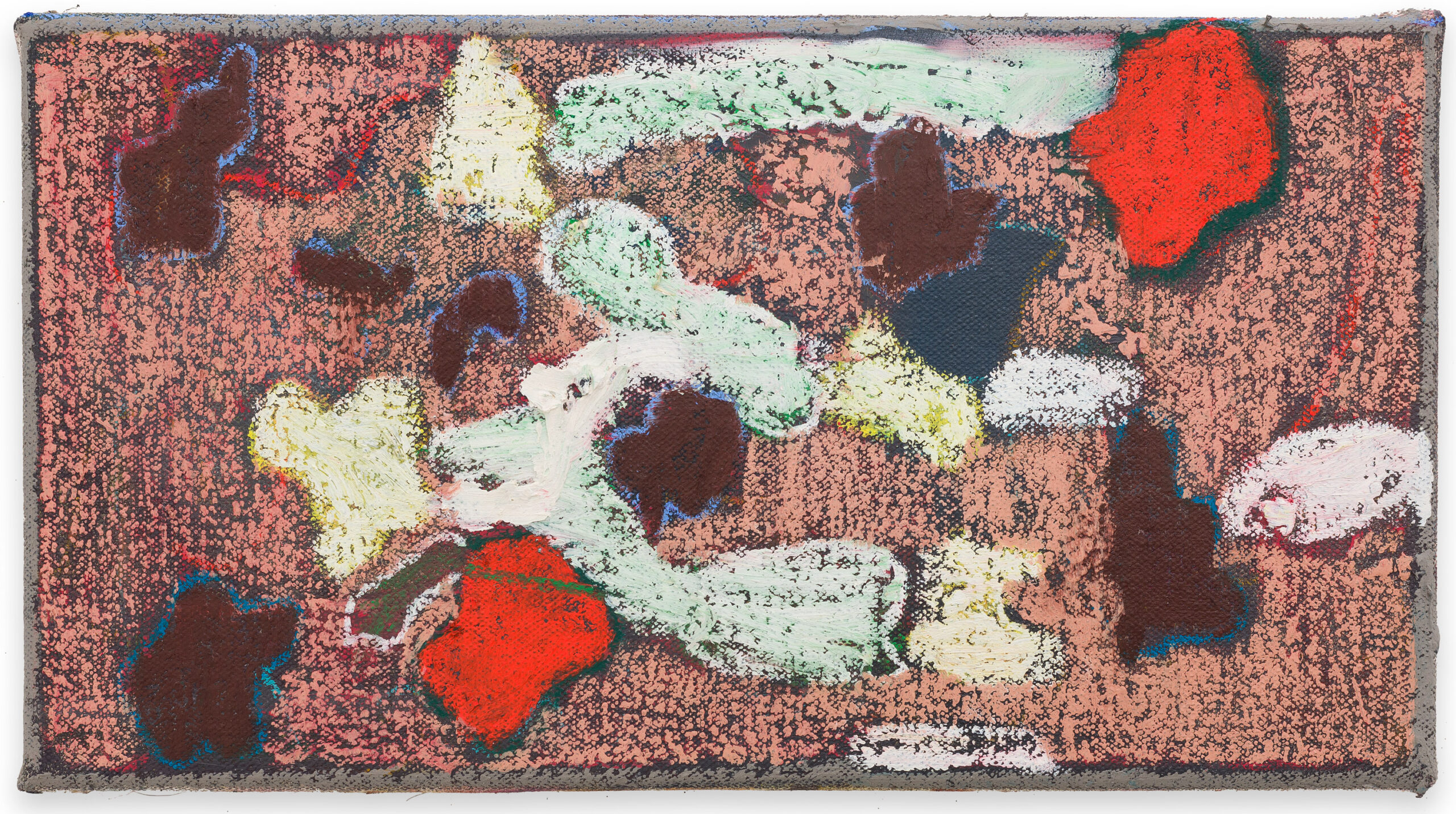 Adrian Buschmann
Fett herrschaftlich, 2019
Oil on canvas
19 x 35 cm
Weekend im Office
Weekend im Atelier.
Urlaub von der eigenen Malerei.
Urlaub von Studien anderer Malerei.
Arbeit am Wochenende, Wochenende in der Arbeit.
In den beiden letzten Ausstellungen bei Gabriele Senn beschäftigte ich mich vorwiegend mit anderen Künstlern (Picabia, Chwistek, Kandinsky). Jene Auseinandersetzung wurde als Urlaub/Weekend genutzt. Dieser Urlaub half mir eine gewisse Distanz zu gewinnen und über die Angst, sich selbst zu kopieren, eine Karikatur seiner selbst zu werden, hinwegzusehen.
Auf der Suche nach einer Lösung bezüglich der eigenen Wiederholung ergab sich mir ein neuer Weg durch die Zusammenarbeit mit Backhausen. Dort wurden Stoffe gewebt, die eine klare Wiedererkennbarkeit zeigen, jedoch kein Produkt der malerischen Wiederholung sind, sondern lediglich das eigene Monogramm rekapitulieren. Dadurch wird die Leinwand, der Untergrund, das Material zu seinem eigenen Markenzeichen. Die Stoffe an sich sind Readymade und gleichzeitig Rohmaterial, das in jegliche Richtungen ausgeweitet werden kann.
Die Porträts hingegen zwingen mich dazu, mich an gewisse Regeln der Malerei zu halten. Dadurch wird die Arbeit bis zu einem bestimmten Grad in Ihrer Qualität für mich überprüfbar.
In der jetzigen Show wird dieser Urlaub verlängert und ausgeweitet, indem ich mich wieder mehr meiner eigenen Arbeit widme und Bilder zeige, an denen ich die letzten zwei Jahre gemalt habe.
– Hansi Fuchs
weekends in the office.
weekends in the studio.
taking a holiday from the own art.
taking a holiday from studying other artists.
working at weekends, weekends at work.
In recent exhibitions at Gabriele Senn Galerie I have primarily been involved with studying other artists such as Picabia, Chwistek and Kandinsky. Those interactions were used as a holiday / weekend that helped me to gain a certain detachment and to overcome the fear of copying oneself, becoming a caricature of oneself.
The collaboration with Backhausen, a traditional weaving company, is the result of seeking a solution with relation to the repetitive character of the own work. Their fabrics are highly recognizable, yet no product of a repetition, but solely a recapitulation of the own monogram. Therefore, the canvas, the surface, the material becomes its own trademark. The fabrics are simultaneously readymade and raw material that can be expanded towards any direction.
The portraits, on the other hand, force me to follow specific norms of painting. In this way the quality of my work becomes verifiable to a certain extent.
In the current exhibition I prolong and expand this vacation by devoting myself to my own work once more and by showing paintings that I have worked on in the past two years.
– Hansi Fuchs