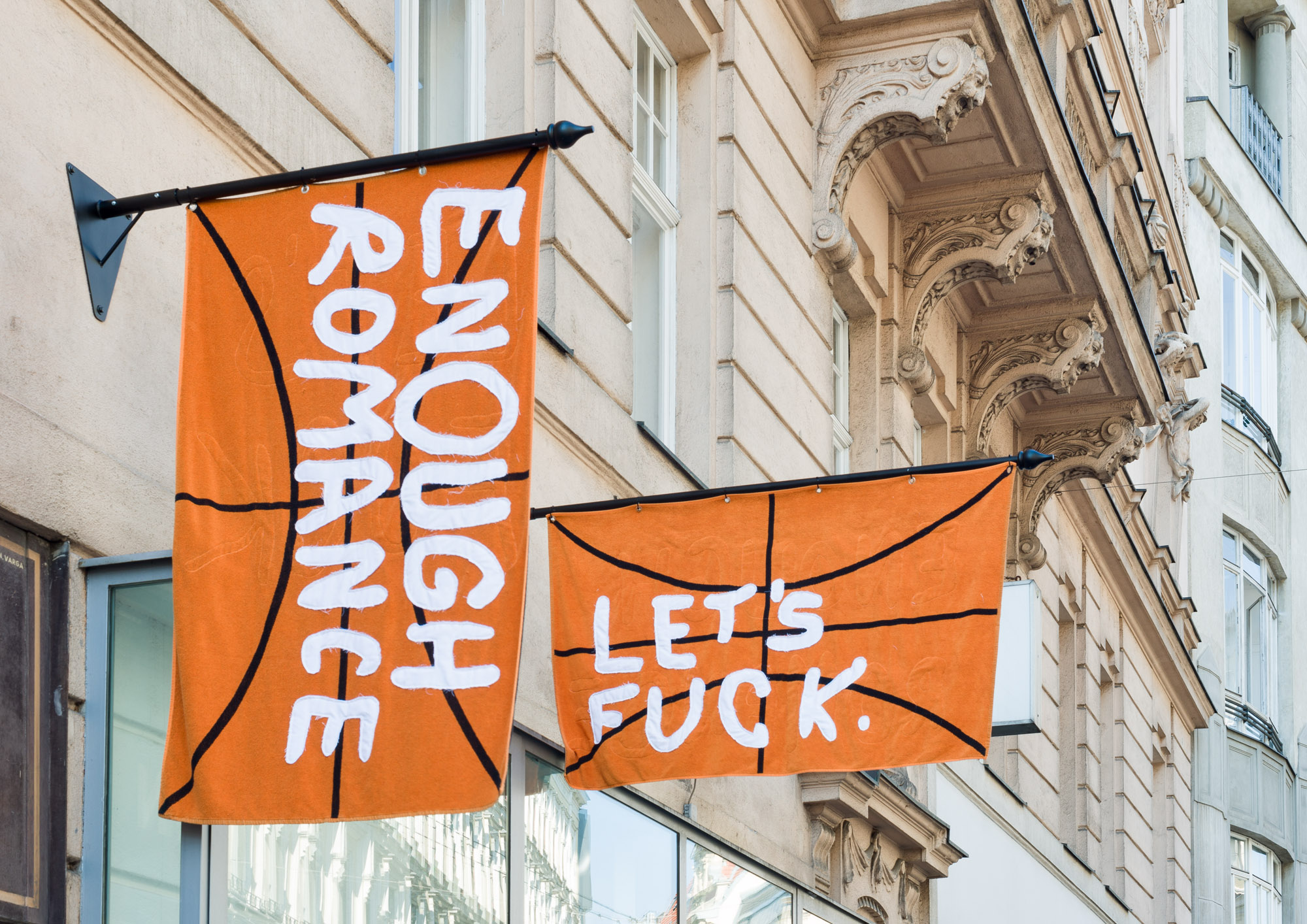 Nina Könnemann / Surfer Anonymous
Basketball, 2016
Zwei Handtücher von Nina Könnemann von Surfer Anonymous bearbeitet
Frottee, Baumwolle
zweiteilig
je 170 x 100 cm
MEINE HERKUNFT HABE ICH MIR SELBST AUSGEDACHT – curated by Cosima von Bonin
Enough Romance. Let's Fuck.


Cosima von Bonin  Jamie Crewe  Colin De Land  Paul Hance  Hoffmann Oswald  Okka Esther Hungerbühler  Oliver Husain  Simone Junker  Martin Kippenberger  Julia Koep  Nina Könnemann  Michael Krebber  Róisín Murphy  Jutta Pohlmann  Dirk von Lowtzow  Claus Richter  Jack Smith  Sergej Jensen  Surfer Anonymous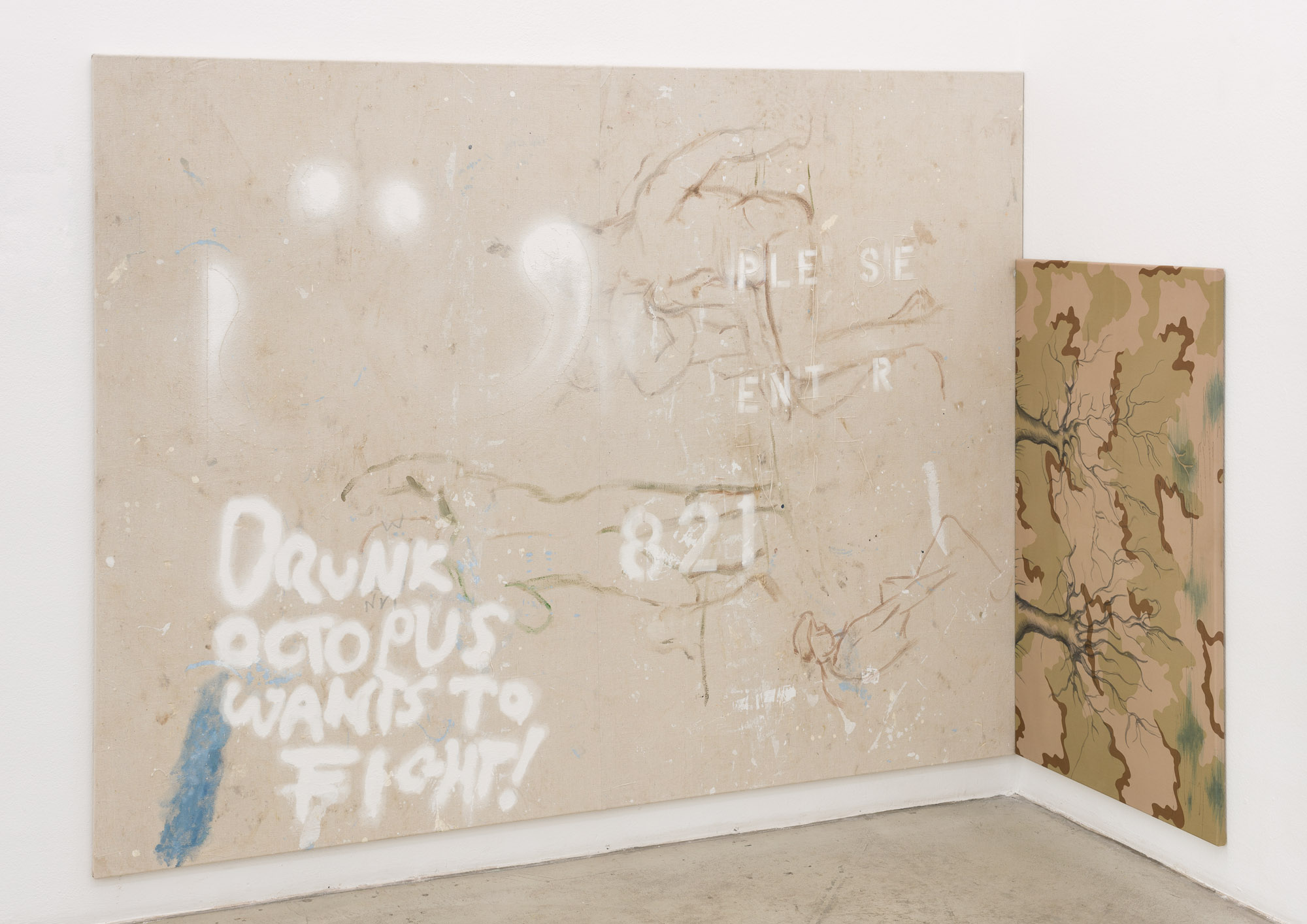 Surfer Anonymous
2016-01, 2016
Baumwolle, Bleistift, Wasserfarbe
116 x 70 cm
2016-02, 2016
Leinen, Acryl, Lack
160 x 220 cm
It's a war zone out there. Everybody has some kind of a history.
Diejenigen Künstlerinnen und Künstler, die zugesagt haben, bei der Ausstellung in Gabriele Senns Galerie mitzumachen, meinen folgenden Versuch einer Rechtfertigung jedoch nicht unterschreiben mögen, müssen da leider trotzdem durch. Nicht ohne meinen Ratschlag, sich an Diedrich Diederichsens, für die diesjährige Ausgabe der curated by_vienna Sache ausgewählten Überbegriff Meine Herkunft habe ich mir selbst ausgedacht und seinem Text darüber zu halten, und mir diese Pressemitteilung zu verzeihen.
Für mich ist Diederichsens Text zu dem Thema zum neidisch Werden perfekt und deshalb nicht zu toppen. Denn da steht ja alles drin. Deshalb mache ich es mir, wie so oft, ziemlich einfach, meine Auswahl der Arbeiten zu legitimieren.
Bei der naheliegenden Anfrage der Organisatorinnen und Organisatoren als Kuratorin doch bitte ein Konzept meines Projektes abzuliefern, klingelten bei mir sofort alle Alarmglocken. Kurator, Konzept, Projekt. Diese drei Wörter gehören für mich alle zu dem Kriegsgebiet Kunst eines da draußen tobenden Krieges, bei dem ich vor einiger Zeit Fahnen ucht begangen habe und mich seit dem unter dem Küchentisch meiner Großeltern versteckt halte. Egal ob Oma und Opa nun adoptiert, radikal und unerschrocken, echt oder bloß erstunken und erlogen sind, ich hatte keine Lust und auch keine Chance mehr, mich mit den besten Lügnern der Kunstwelt, einer der unzähligen Welten, zu beschäftigen.
Ich möchte mehr mit den Künstlerinnen und Künstlern als mit deren Arbeiten, die bei Gabi Senn zu sehen sein werden, angeben. Einige, die bei der von mir zusammengestellten Ausstellung mitmachen, werden am 8. September in der Galerie zugegen sein. Außer sie üchten. Diejenigen jedoch, die während der Eröffnung durchhalten werden, um die Fahnen für Enough Romance. Let's Fuck tapfer hochzuhalten, sprechen Sie diese doch gerne an. Mal sehen, wie/ob sie antworten.
Those artists who agreed to take part in the exhi- bition at Gabriele Senn's gallery but who do not subscribe to my attempt to explain myself, as outlined below, will unfortunately have to bear with me nevertheless. I would ask them to follow my advice and adhere to Diedrich Diederichsen's choice of theme for this year's edition of curated by_vienna [My Origins? I Made Them Up] and his text about that topic, and to excuse me for this press release.
For me, Diederichsen's text on the topic is enviably perfect and for that reason it cannot be topped. Because it covers everything. Which is why I am—as so often—taking the relatively easy way out to justify my selection of works.
When the organizers quite reasonably requested that I, as curator, hand in a concept of my project, alarm bells immediately started ringing inside my head. Curator, concept, project. For me, all of those three words belong to the art war zone, in a war that was raging out there, which I had deserted some time ago and had since been hiding from under my grandparents' kitchen table. It does not matter whether granny and granddad are adopted, radical and intrepid, genuine or simply a pack of lies: I can no longer be bothered and also have no possibility to deal with the best liars in the art world, one of the countless worlds. I would prefer to boast about the artists who will be on show at Gabi Senn's gallery rather than about their works. Some of those who are taking part in the exhibition I have put together, will be present at the gallery on 8th September. Unless they escape. However, you are welcome to speak to those who manage to see the opening through to bravely champion Enough Romance. Let's Fuck. Let's see whether and how they respond.