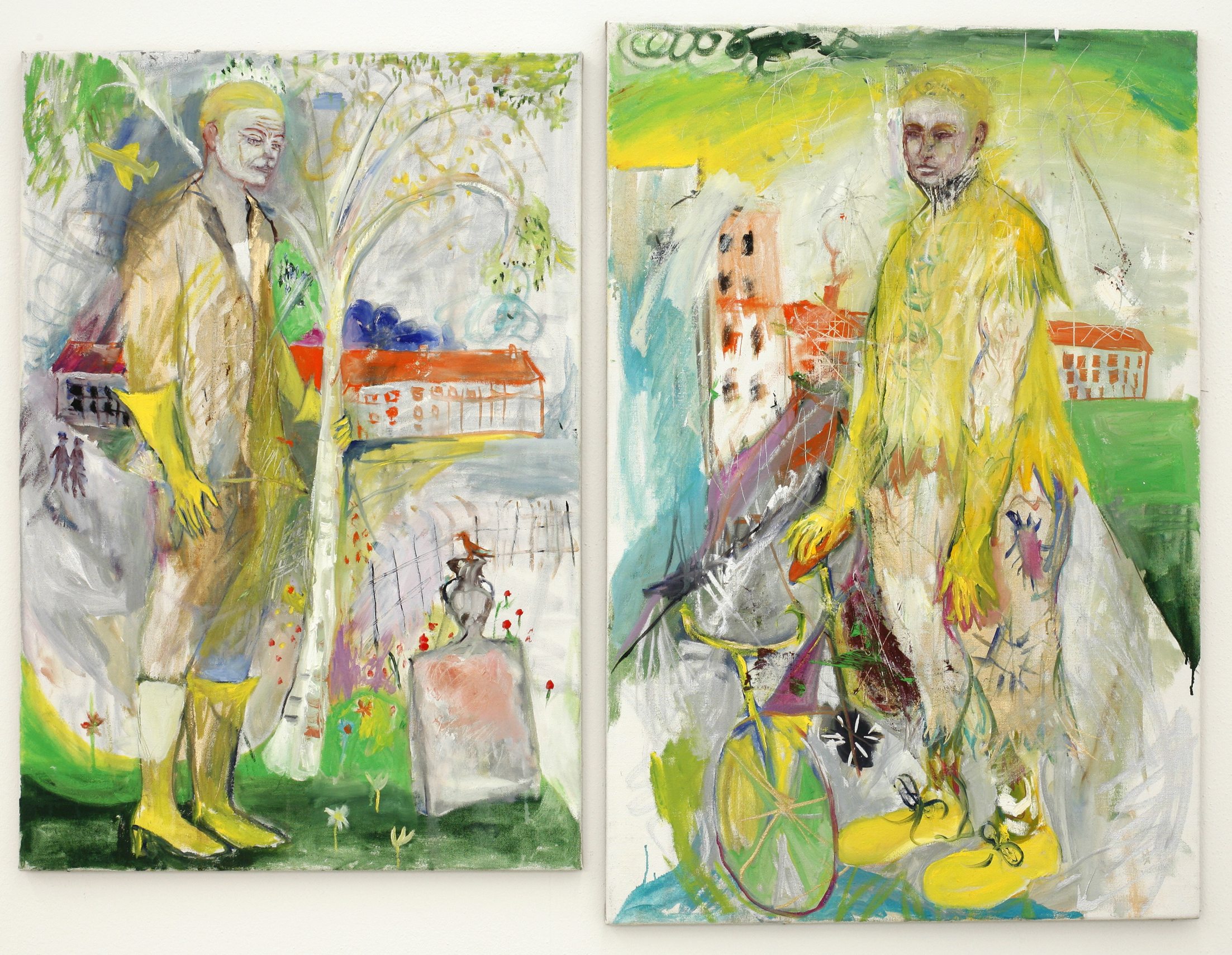 Hans-Jörg Mayer
Im Wedding Tag und Nacht, 2007
oil on canvas
95 x 65 cm
105 x 70 cm
Zu Beginn der 90er Jahre überraschten Hans-Jörg Mayers Bilder den Betrachter durch die unverhohlene Art mit der er bekannte Bilder aus den Medien in seiner Malerei schlicht kopierte. Es ging ihm um die Entmystifizierung der Malerei, aber auch um die Frage, wie sich Themen der Malerei und der Wunsch, Bilder für die Ewigkeit zu schaffen, im Alltag und der B-Kultur manifestieren. Wer diese Art der Bilder in Hans-Jörg Mayers neuer Ausstellung in der Galerie Gabriele Senn, Wien erwartet, wird wiederum überrascht.  Denn in den seltsam morbiden Bildern mischen sich Motive, von denen man nicht immer sagen kann, ob sie nun aus den Medien oder aus der Kunstgeschichte stammen. Es scheinen Geister unseres kollektiven Gedächtnisses zu sein, die uns da begegnen – vornehmlich weibliche. In einem Fall fragt man sich beispielsweise, ob es junge amerikanische Soldatinnen, Hitler-Mädchen,  Modelle aus den Bildern von Balthus oder Figuren aus Renaissance Fresken sind, die in einem utopischen Garten zum Picknick versammelt sind.
Gerade dieses Bild mit dem Titel "Flugbegleiterinnen" erinnert an eine Gruppe von Arbeiten Hans-Jörg Mayers von 1991, die fünf bewaffnete Guerilla-Kämpferinnen zeigt. Neben einem Gemälde, nach einem Pressephoto, zeigte Mayer damals auch eine Photographie, in der fünf Künstlerinnen und Theoretikerinnen, die Situation nachstellten und somit in das Feld zeitgenössischer Kunst übertrugen. In Mayers neuem Bild hingegen wirken die Frauen in ihren mädchenhaften Uniformen zwar einwenig unreif, aber mit ihren etwas klobigen Körpern und strengen Gesichtern dennoch wehrhaft genug.
Im Widerstand zu einem künstlerischen Mainstream bei dem der popkulturelle Bezug nicht mal mehr als Selbstlegitimation, sondern nur noch als modisches Zitat daherkommt, spürt Mayer kunsthistorischen Bildern nach, die längst in unserem pop-kulturellen Unterbewusstsein versackt sind, und uns – zu Motiven vereinfacht – in Werbung und Modemagazinen hundertfach wieder begegnen. Was ihnen in diesem Prozess verloren gegangen ist, erlangen sie auf klassische Weise im malerischen Prozess zurück.
Überhaupt kann man sich hier davon überzeugen, dass Pop nichts mit glatten Oberflächen zu tun hat. Die "Pop-Kommunistin", die auch eine Polizistin sein könnte, verdankt ihre liebevolle Erscheinung wohl auch Mayers detailliertem, fast wie in die Leinwand hinein gearbeiteten Farbauftrag. Auch ihre Nachbarin, die ein Polohemd und außer der Andeutung eines Schleiers um die Hüften nichts trägt, zeichnet dieser fein geschichtete Farbauftrag aus. Ihr Gesicht wirkt wie ein Fresko, rückt in unberührbare Ferne und entwickelt – hoffnungsvoll – eine längst totgesagte Aura. Umso merkwürdiger wirkt die Erscheinung in einer nahezu konstruktivistischen Umgebung fächerartiger grüner Stellwände.
Überhaupt werden die Bilder der Ausstellung durch den Farbton Grün bestimmt, dessen breites Spektrum zum Teil fein nuanciert zum Teil bissig kombiniert die Bilder in ein merkwürdig zwielichtiges Licht setzt.
– Anja Dorn
At the beginning of the 90's, Hans-Joerg Mayer's paintings surprised viewers with their blatant style reproducing well-known images from the media. For him it was a form of de-mystification of painting, but also centering on the question of how to create themes within the medium of painting and the ultimate painter's dream, to achieve an eternal quality in his painting, which would manifest in every-day life and in b-culture. Those who expect this style of painting in Hans-Joerg Mayer's new exhibition at Galerie Gabriele Senn will once again be surprised – namely because the oddly morbid paintings combine motives which cannot be said to stem from either the media or from art historical sources. They seem to be ghosts from our collective mind that confront us – especially female ones. In one case one asks, for example, if the paintings depict young American female soldiers, Hitler-girls, models out of paintings by Balthus, or figures out of Renaissance frescoes who are gathered for a picnic in a utopian garden.
It is precisely this painting, entitled "Flugbegleiterinnen" (Flight Attendants), which recalls a group of earlier Hans-Joerg Mayer works from 1991 showing five armed, female guerrilla fighters. Next to one of his paintings, after a press photo shoot, Mayer then also exhibited a photograph in which five female artists and theorists re-enacted the event and thereby transferred it into the forum of contemporary art. By comparison, in Mayer's new painting the women, dressed in girlish uniforms, somehow appear slightly immature but due to their hefty bodies and menacing expressions still seem ready for battle.
Opposing an artistic mainstream in which pop cultural references serve not just as a form of self-legitimization but through which we derive fashionable quotes, Mayer's paintings trace art historical roots that have long been repressed in our pop-cultural subconscious and which (simplified) we continuously encounter in advertising and fashion magazines. What has been lost in this process is once again attainable in classical form through a painterly process.
One can hereby be convinced that Pop has nothing to do with flat surfaces. The "Pop Kommunistin" (Pop Communist), who could also be a policewoman, owes her lovely appearance and detailed drawing to Mayer, as well as the canvas-deep colour application. Her neighbour, dressed in a polo shirt, and aside from a mere hint at a veil around her hips wears nothing, is drawn with a colour application of subtle thickness. Her face has the effect of a fresco, pushed back into an untouchable distance and developing – hopeful – an aura that has long been declared dead. Even more strange is the interaction of the apparition with the virtually constructivist environment of fanlike, green movable walls.
Generally, the colour green defines the paintings in this exhibition with its wide spectrum which, half subtly nuanced half acrimonious, brings the paintings together in an odd, dubious light.
– Anja Dorn