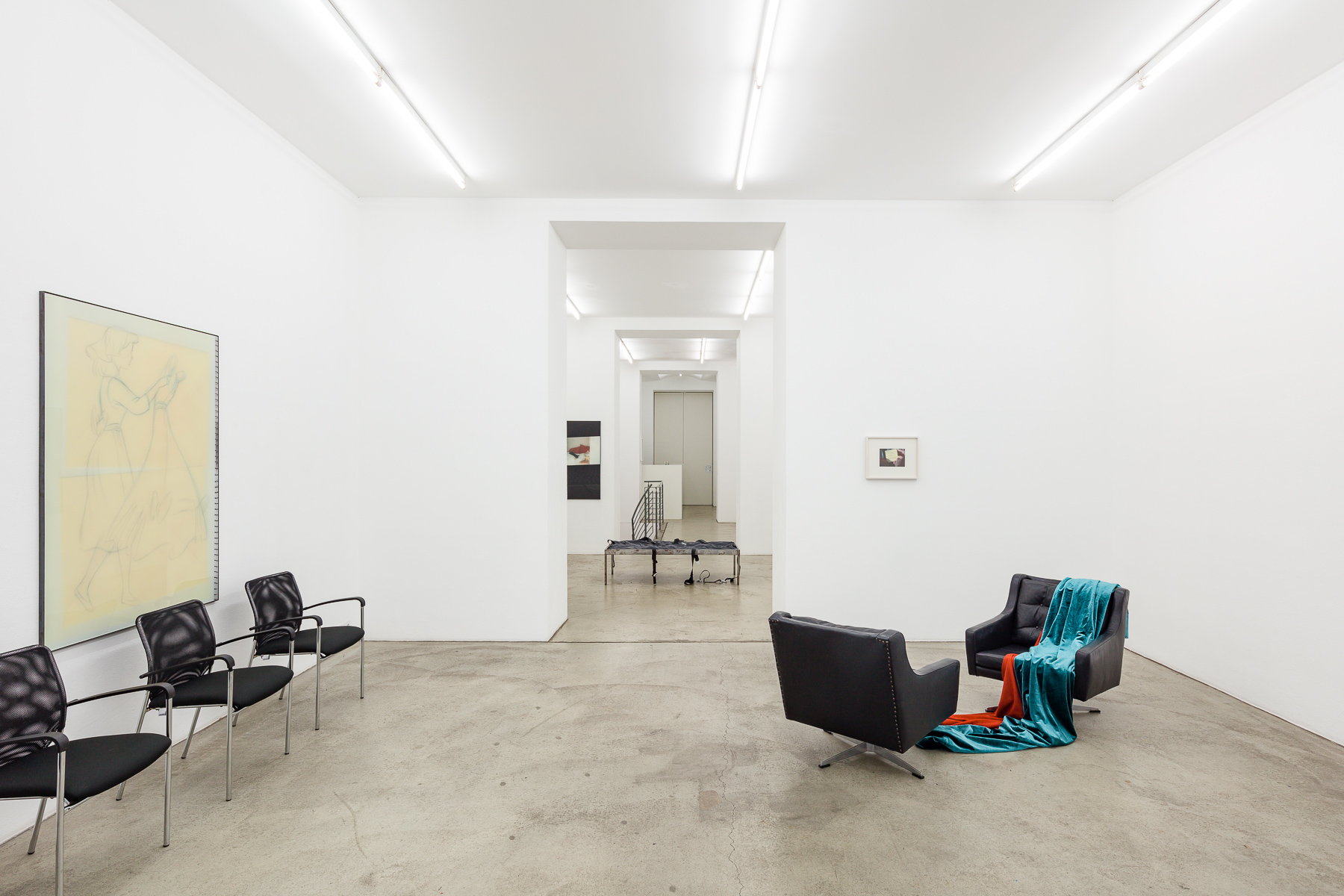 Die Arbeiten in I'm Sorry, I Can't, Don't Hate Me der in Wien lebenden Künstlerin Marina Sula schweben zwischen der Symbolik des Gewohnten und Alltags, psychisch inneren Welten, und dem Wunsch, Kontroll-Konstruktionen zu entwirren, beides inner- und außerhalb des Ausstellungbereiches.
I'm Sorry, I Can't, Don't Hate Me ist sowohl als funktionaler als auch ästhetischer Raum aufgebaut, wo Designmöbel und "Unnötigkeiten", eine mit Flugzeugsitzgurten ausgestattete Bank, die Besucher einlädt, sich zu setzen, zu verweilen und eine Vielfalt von umliegenden Drucken in unterschiedlichen Größen aus dem Privatarchiv der Künstlerin zu betrachten. Die schwarzen Stühle, Sofas und Bänke, die vieldeutig an einen Warteraum erinnern, an ein Büro, einen Flughafen oder eine Hotelhallenszene, schafft eine streng strukturierte und fast sterile Atmosphäre, welche sich offensichtlich mit den verschiedenen Techniken und Motiven der Drucke schlägt, Drucke mit intimen, banalen, Verbraucher- und populären Bezügen.
Auf den ersten Blick fehlt den Bildern ein verbindender Erzählstrang. Eher schlagen sie einen Begriffsraum vor, in welchem Kunst als Hochkultur und Nichtkunst als niedere Kultur sowie deren jeweilige Verbreitungs- und Aufnahmearten ähnliche Interessen und Aufgaben zunehmend teilen können. Sula dehnt ihre Erforschung von Erreichbarkeit und Einordnung aus, indem sie die Art hinterfragt, wie darstellende Mechanismen – das Äußere – in das Innere eindringen und sich memetisch vermehren können, um eine Einheit von der Kultur und einem Glaubenssystem zu bilden. Der Individualismus tritt unmittelbar mit der nichthierarchischen Darstellung einer Vielheit von Schaffens- und Darbietungsweisen in Kunst, Werbung und Technik/Social Media auf. Das Bild als therapeutische Projektionsfläche, Erfüllung und Einheit wird hinterfragt samt der Anregung, es in der Werbung ebenso zu finden wie in Kunstwerken; die Form vorgestellt als Verwandlung der finanziellen, intellektuellen, zeitlichen und emotionalen Investition des Individuums.
Der architektonische Aufbau erlaubt Körpern im Ausstellungsraum, Teilnehmer zu werden sowohl im Schauen als gleichzeitig auch im Angeschautwerden, und lenkt den Brennpunkt auf den Akt der Aufnahme und Erwartung. Was ist der kritische Bereich, an wen gerichtet, und wem wird zugehört? Wird Kritik gegenüber Kunstsystemen nur möglich durch jene selben unverändert bleibenden Systeme? Der Titel der Ausstellung verbindet scherzhaft eine berühmte popkulturelle Szene eines schrillen Bruchs mit Ablehnungszweifeln, Einwirken und Koabhängigkeit, in welche Künstler und Betrachter verfangen sind. Wie auch immer, weit jenseits eines bissigen Griffs auf die Sache benennt die Künstlerin den möglichen Widerstand innerhalb des Körpers und insbesondere im Akt der Überführung des Materiellen ins Symbolische – ganz wie die Verwandlungen von Aschenbrödel oder Sailor Moon in "Crisis, Make Up!" als Verinnerlichung einer äußeren Kraft und umgekehrt verstanden werden können. 
– Franziska Sophie Wildförster
The works in I'm Sorry, I Can't, Don't Hate Me by Vienna-based artist Marina Sula hover between the symbolic of the familiar and everyday, psychological inner worlds, and desire to unravel architectures of control both within and outside of the exhibition space.
I'm Sorry, I Can't, Don't Hate Me is set up as both functional and aesthetic space, where design furniture and "no needs", a bench fitted with airplane seat belts, invite visitors to sit, linger and contemplate a variety of surrounding diversely sized prints sourced from the artist's private archive. The black chairs, couches and benches, ambiguously reminiscent of a waiting room, an office, an airport or a hotel lobby scene, create a rigidly structured and almost sterile atmosphere that is seemingly at odds with the various techniques and motifs of the prints of intimate, mundane, consumerist and popular references.
On first glance, the images lack a unifying narrative. Rather, they propose a conceptual space in which art as high culture and non-art as low culture, and their respective systems of dissemination and reception, may share increasingly similar interests and functions. Sula extends her explorations of accessibility and class, interrogating the way representational mechanisms – the exterior – can infiltrate the interior and propagate memetically to form a unit of culture and a belief system. Individualism comes face to face with non-hierarchical presentation of variety of modes of production and (re)presentation in art, advertising and technology/social media. The image as therapeutic surface of projection, fulfillment and unity is questioned and suggested to be found in advertisement as much as in pieces of art; form proposed as a sublimation of the individual's financial, intellectual, temporal and emotional investment.
The architectural set up allows for bodies in the exhibition space to become partakers both watching and being watched simultaneously and shifts the focus to the act of reception and expectation. What is the scope of criticality, whom is addressed and whom is listening? Is criticality towards art's systems only made possible by those very same systems remaining unchanged? The exhibition's title jokingly links a famous pop-cultural scene of a harsh break-up to questions of refusal, agency and co-dependencies artists and viewers are entangled in.
Much beyond a cynical take on the matter, however, the artist proposes potential resistance within the body and more particularly in the act of translation from the material into the symbolic – such as Cinderella's or Sailor Moon's transformations in "Crisis, Make Up!" might be understood as the internalization of an exterior force or vice versa. 
– Franziska Sophie Wildförster