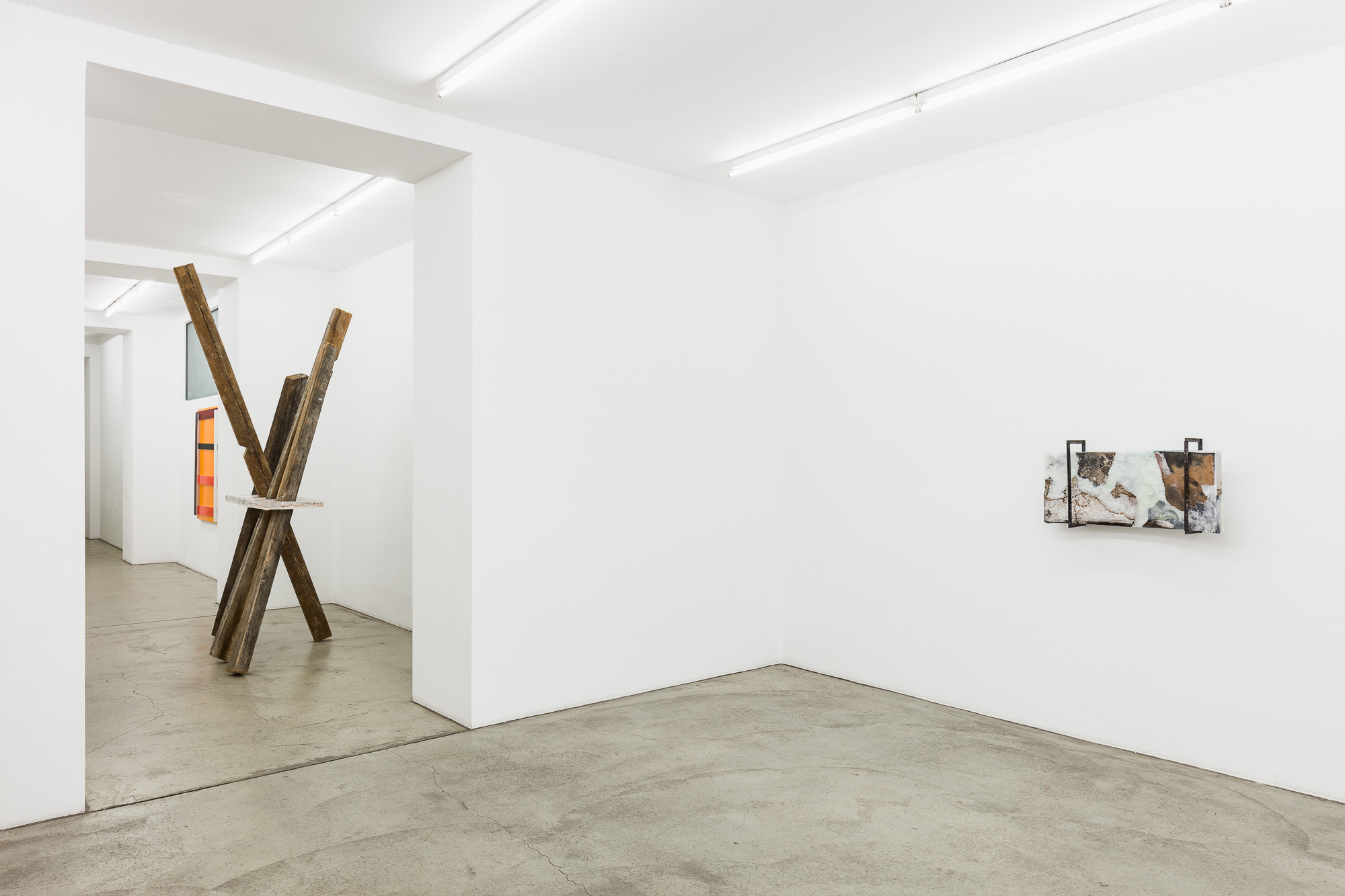 Hebt den Dachbalken hoch, Betondecken!
Frei nach J.D. Salinger, seine Erzählung "Hebt den Dachbalken hoch, Zimmerleute" von 1955 zitiert ein Hochzeitsgedicht von Sappho.

Hebt den Dachbalken hoch,
Hymenaios,
hebt hoch, ihr Zimmerleute:
Hymenaios,
der Bräutigam kommt, gleich dem Ares,
weit größer als ein sterblicher Mann.
Sappho
Auf die Frage, wie es ist ihre Arbeiten in einer gemeinsamen Ausstellung mit Bildern von Imi Knoebel zu zeigen, meint Brown: "Ich hab es als spannende Herausforderung gesehen, mich mit einer künstlerischen Position zu beschäftigen, die überhaupt nicht naheliegend ist. Nicht nur gehört Imi Knoebel einer ganz anderen Generation an (Anmerkung: Knoebel ist Jahrgang 1940, Brown Jahrgang 1983), die meisten Arbeiten habe ich nie in echt gesehen, sondern kenne sie nur aus dem Katalog. Da haben sie für mich Ähnlichkeiten mit ganz formalen Positionen, die mit industriell gefertigten Oberflächen und Materialien arbeiten und sehr wenig von sich hergeben. Durch Knoebels Titelgebung bin ich eingeladen, eine Erzählung in den Arbeiten zu erkennen. Die Aluminiumprofile mit den malerischen Oberflächen bei "Der Deutsche" bekommen durch den Titel eine ganz andere Aufladung und laden zu einer politischen Lesart der Arbeit ein. Da denke ich eine künstlerische Verbundenheit zu erkennen – wissen tu ich es nicht, weil ich ihn leider noch nicht persönlich kennen gelernt habe."
Wer mit offenen Augen durch Wien geht, kann es nicht übersehen: Abriss und Bauboom an allen Ecken und Enden. Historische Häuserensembles wurden zerstört, markante Gebäude mit aufwändigen Stuckfassaden geschliffen und völlig intakte Altbauten durch Neubauten ersetzt. Ein Jahrhundert nach dem Ende der Gründerzeit erfasst eine Abrisswelle die Stadt. Rufe nach strengeren Gesetzen stießen bei der Politik lange Zeit auf taube Ohren. Erst 2018 trat ein effektiverer Abrissschutz in Kraft: Ob der brisanten Situation musste die Gesetzesverschärfung zum Ensembleschutz vorgezogen werden und trat nicht erst mit Jänner 2019 sondern bereits im Sommer 2018 in Kraft.
Auch in der Nachbarschaft der Künstlerin wurden Gebäude wie das biedermeierische Gasthaus Sperl im 4. oder das legendäre neogotische Kaffee-Urania im 3. Bezirk abgerissen. In dieser Zeit transportierte Brown Dachbalken aus den Abrissgruben und Schüttmulden ins Studio und suchte für sie neue erzwungene Verbindungen. Den daraus entstandenen Skulpturen sind die schlechten Verknüpfungen von Investoren, Kapital, Bauspekulation und Abriss inhärent. In der Neuzusammensetzung ist die Spannung zu spüren, die aus dem sich gegenseitig abstoßen, dem Verkeiltsein und Ausbalancieren resultiert.
"Mit den beiden großen Skulpturen aus der Serie "Der verklemmte Haufen" von 2019 denke ich über Zwangsbeziehungen nach, zwischen zwei Materialien, die sich gegenseitig brauchen, um in der Form stehen zu können, die sich ineinander verkeilen. Diese Beziehung hat gleichzeitig etwas Fragiles und Brutales. Die Holzbalken sind Archivmaterial und stammen von Baustellen in Wien, von Gebäuden und Dachstühlen, die in den letzten Jahren abgerissen wurden und von einer Stadtentwicklung erzählen, von Investoren und Leerstellen, von Bestrebungen entgegenzuhalten oder davon zu profitieren. Sie setze ich in Beziehung zu Betonplatten – ich nenne sie Zitate von Betonfliesen – oder einer Marmorterrazzofliese. Diese tragen die Balken oder werden von ihnen durchbohrt. Mit ihnen beginnt wieder eine Geschichte, die von etwas Neuem erzählt, von dem, was nach den Balken kommt. Und darüber, wie sich das danach auf das davor bezieht."
Die Anordnung der Dachbalken erinnert auch an Wellenbrecher oder Lawinenverbauten, beides Instrumente um vor Naturelementen und -katastrophen zu schützen, wie sie durch die menschgemachte Zerstörung der Umwelt und dem daraus resultierenden Klimawandel vermehrt produziert werden. Die Balken sind in einem System so ineinander gesteckt, dass sie in sich gleichzeitig labil und stabil stehen und eine neue tragende Konstruktion bilden.
Brown arbeitet mit widersprüchlichen Materialien, die nicht zusammen wollen, sich widersprechen oder sogar abstoßen – Beton, Gips und Wachs und betreibt künstlerische Forschung mit Materialexperimenten. Sie hat sich selbst beigebracht Zementfliesen zu gießen, experimentiert mit deren Einfärbung und zitiert hier die Marmorterrazzofliesen, die in den eingangs erwähnten alten Häusern als Bodenbelag verwendet wurden. Zuletzt hat sich Brown intensiv mit der Herstellung und Weiterverarbeitung von Ton beschäftigt. Ton ist Bestandteil von Lehm, welcher aktuell als ökologischer und nachhaltiger Baustoff ein Revival erfährt.
"Die beiden keramischen Arbeiten, die ich auch in der Ausstellung zeige, gehören zu einer Serie, in der ich mich inhaltlich mit unsichtbarer Arbeit beschäftigt habe. Sie entstanden aus dem Konglomerat der "Gewerkschafterin" beziehungsweise aus einem zweiten Versuch, Ton selbst herzustellen und zu brennen. Es geht um die Eigenschaft von Ton, sich Bewegung zu merken, das Brennmaterial zu zeigen und das Versprechen den Prozess sichtbar zu machen."
Die "Tunnelfragment #1" und "Tunnelfragment #2" genannten Arbeiten verweisen im Titel auf die U-Bahnbaustelle am Matzleinsdorfer Platz, von wo der Ton entnommen wurde. Zu Zeiten der Monarchie haben in dieser Gegend Arbeiter aus Böhmen und Mähren für die Wiener Ziegelwerke unter miserablen Bedingungen Lehm gestochen. Aus den daraus gebrannten Ziegeln wurde in der Folge halb Wien gebaut.
– Christiane Erharter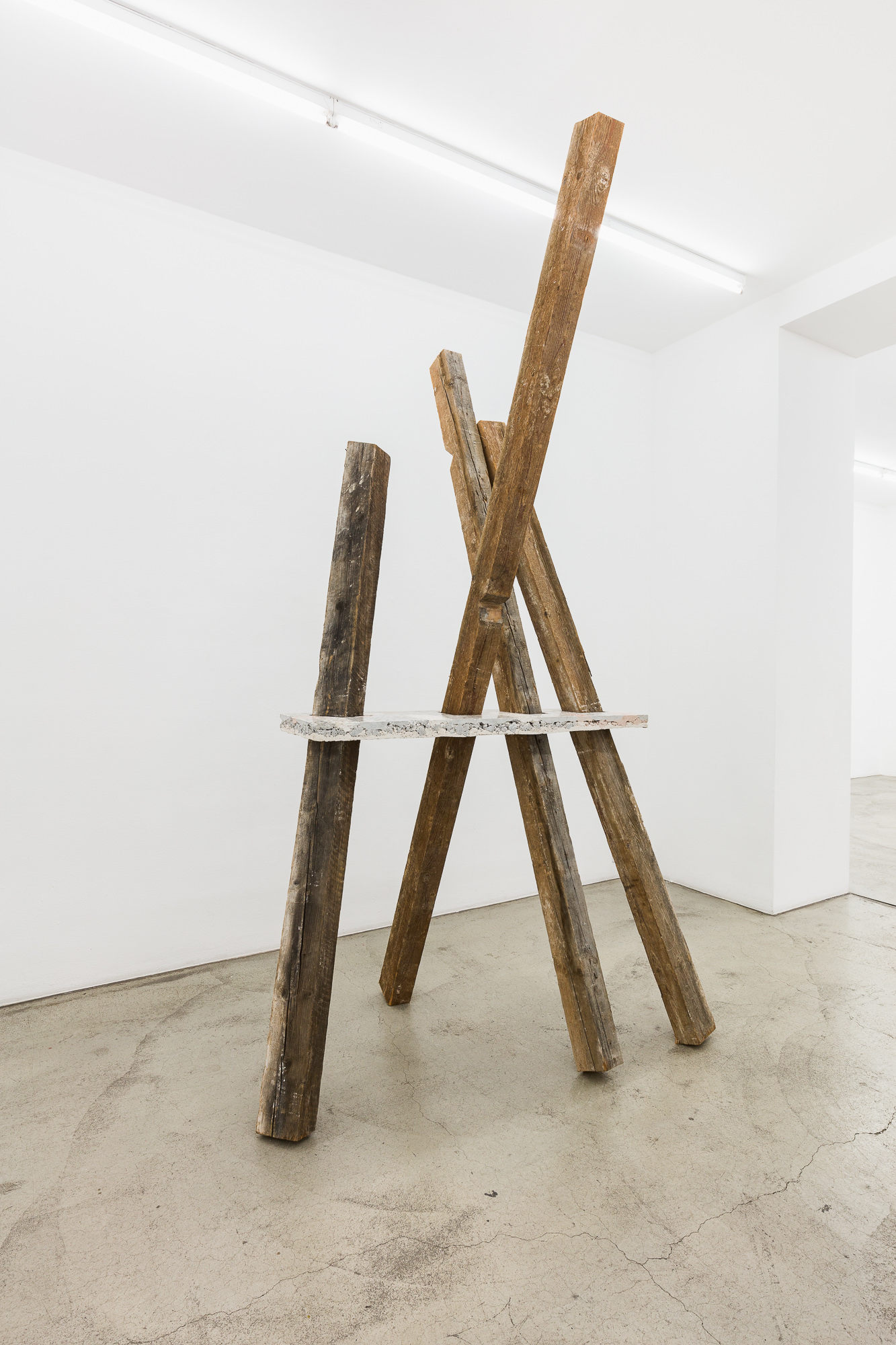 Cäcilia Brown
obdachlos und trotzdem sexy II, 2020
Musterfliese Marmor Terrazzo
Dachbalken, Nägel, Holz, Stahl, Beton, Pigmente, Untersberger Marmorkiesel
145 x 80 x 260
Imi Knoebel
Russisch Brot I, 1999
Hartfaser, Acryl / Aluminium
337 x 337 x 40 cm
2-teillig
Raise high the roof beam, concrete ceilings!
Freely adapted from J.D. Salinger, his story "Raise high the roof beam, carpenters" from 1955 quotes a wedding poem by Sappho.
Raise high the roof beam
Hymenaios,
Raise high, you carpenters:
Hymenaios,
Like Ares comes the bridegroom,
taller far than a tall man.
 Sappho
When asked what it is like for her that her work to be shown in a joint exhibition with pictures by Imi Knoebel, Brown says: "I considered it an exciting challenge to work with an artistic position that isn't really obvious. Not only does Imi Knoebel belong to a completely different generation (Note: Knoebel was born 1940, Brown was born 1983), I hadn't even seen most of his work in real life before. I only know it from the catalogue. There, I find it has similarities with very formal positions that work with industrially manufactured surfaces and materials and reveal very little of themselves. With Knoebel's choice of title, I am invited to recognize a narrative in the pieces. The aluminium profiles featuring the painterly surfaces in "Der Deutsche" have a completely different feel when considering the title and consequently also invite a political reading of the piece. I feel I recognize an artistic bond there – but I can't say for sure as, unfortunately, I haven't met him in person yet."
Anyone walking through Vienna with open eyes can't miss it: demolition and construction is visible everywhere. Historic house ensembles have been destroyed, beautiful buildings with elaborate stucco facades have been sanded down, and completely intact historical buildings have been replaced by new ones. A century after the end of the Gründerzeit era, a wave of demolitions hit the city. For a long time, calls for stricter laws achieved nothing in politics. It wasn't until 2018 that more effective demolition protection policies came into force: given the explosive situation, the tightening of laws concerning ensemble protection had to be given priority. This meant that they already came into force in the summer of 2018, as opposed to January 2019.
The artist's neighbourhood was affected by the demolitions too. Buildings such as the Biedermeier restaurant "Sperl" in the 4th district or the legendary neo-Gothic coffeehouse "Kaffee-Urania" in the 3rd district were demolished. During this time Brown collected roof beams from demolition pits and dumps and brought them to her studio, where she repurposed them to form new connections. The resulting sculptures embody the bad links between investors, capital, building speculation and demolition. Tension, resulting from mutual repulsion, wedging and balancing, can be felt in the new pieces.
"The two large sculptures from the 2019 series "Der verklemmte Haufen" ("The inhibited heap") make me think about forced relationships between two materials that need each other to be able to stand in a formation that also necessitates their wedging into one another. There is something simultaneously both fragile and brutal about this relationship. The wooden beams are archival material that come from construction sites in Vienna, from buildings and roof trusses that have been torn down in recent years. They tell of urban development, of investors and vacancies, of efforts to counter or benefit from the situation. I juxtaposed them with concrete slabs – I call them quotes from concrete tiles – or a marble terrazzo tile. These support the beams or are pierced by them. With them a new story is told, one that tells of something new, of something that comes after the beams. And about how what comes after relates to what has gone before."
The arrangement of the roof beams is also reminiscent of breakwaters or avalanche barriers, both instruments that protect against natural elements and disasters. At the same time both are being increasingly produced due to the human destruction of the environment and resulting climate change. The beams are interlocked in a system in such a way that they are simultaneously unstable and stable as they form a new load-bearing structure.
Brown works with contradicting materials that ordinarily don't work well together, contradict one another or even repel one another – concrete, plaster of Paris and wax. She also conducts artistic research with material experiments. She taught herself to pour cement tiles, experiments with their colouring and uses marble terrazzo tiles that were used as flooring in the old houses mentioned above. Most recently, Brown has worked more intensely with the production and processing of clay. Clay is an ingredient in loam, which is currently experiencing a revival as an ecological and sustainable building material.
"The two ceramic pieces that I also show in the exhibition belong to a series in which I dealt with invisible work. They emerged from the conglomerate of the " Gewerkschafterin" ("union woman") and from a second attempt to produce and burn clay. It's about clay's ability to remember movement, to show the burning material and the promise to make the process visible. "
The pieces called "Tunnel Fragment #1" and "Tunnel Fragment #2" refer in their titles to the subway construction site at Matzleinsdorfer Platz from where the clay was taken from. During the monarchy, workers from Bohemia and Moravia dug clay in this area under miserable conditions for the brick-making company Wiener Ziegelwerke. The bricks fired from this work were subsequently used in the construction of half of Vienna.
– Christiane Erharter