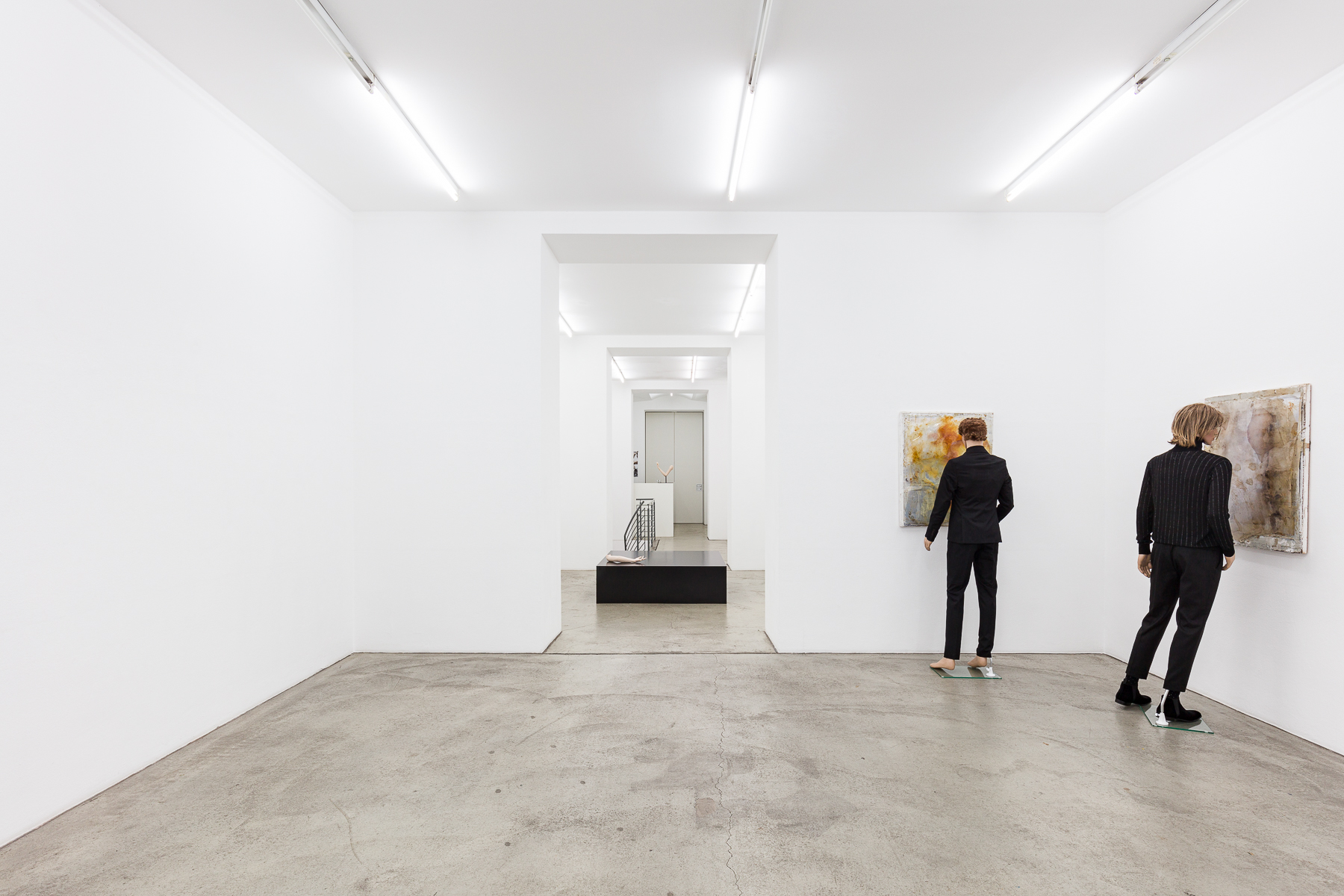 Wegwerfgedanken zu der Ekstase, Müll zu werden
Von Tenzing Barshee & Camila McHugh
Mannequins blockieren die Sicht auf abstrakte Gemälde. Aus Industriemüll erstellt, haben die Leinwände die gleichen Dimensionen wie Der Wanderer über dem Nebelmeer (1818) von Caspar David Friedrich.
Bis zur Romantik hatte die Rückenfigur – eine Gestalt von hinten betrachtet – im Allgemeinen eine narrative oder kompositorische Funktion in der Malerei. In der zweiten Hälfte des 19. Jahrhunderts wurde sie autonom.
Diese Creeps haben eine bestimmte Persönlichkeit.
Realistischere Mannequins finden sich bei Textildiscountern. High-End-Modeboutiquen bevorzugen meist abstraktere Versionen: lediglich den Torso, ohne Kopf, usw.
2009 schuf Richard Hoeck (in Zusammenarbeit mit John Miller) ein Mannequinkind für die Ausstellung Cave Painting, kuratiert von Bob Nickas. Es war das einzige figurative Bildelement in einer im übrigen ungegenständlichen Ausstellung. Hoeck und Miller arbeiteten auch in Mannequin Death (2015) zusammen, einem hochauflösenden Video, in dem eine Anzahl von gut und stylisch gekleideten in einen Steinbruch gestoßen werden. Zu sterben ist für eine Kleiderpuppe ein abstrakter Gedanke.
Die Plastikmenschen zerschellen beim Aufprall auf den Felsen. Der Vorgang ist ebenso melodramatisch wie brutal.
Man stelle sich Caspar David Friedrichs verträumten Wanderer über den steinigen Abgrund und in das Nebelmeer fallend vor. Ölfarbe reißt hier auf.
Die Romantik war zum Teil eine Reaktion auf das frühe Industriezeitalter. Sind die Konsequenzen des 20. Jahrhunderts – alle, die guten wie die schlechten – bloß ein Umkippen des Idealismus aus dem 19. Jahrhundert? Was bedeutet das im 2020?
Rodin goss abgetrennte Torsi in Bronze und etablierte das Potential des fragmentierten Körpers für moderne Kunst. Hoeck goss gebrochene Gliedmaßen seiner Mannequins in Silikon, sie auf einem großen schwarzen Sockel präsentierend.  
Disiecta membra – ausgerissene Teile – aus den Satiren Horaz' beziehen sich auf die "des zerrissenen Dichters Glieder", was andeutet, dass der Dichter noch erkennbar ist, auch wenn seine Dichtung auseinandergenommen und neuzusammengesetzt wurde. Diese Gliedmaßen sind erkennbarer Weise von Richard Hoeck.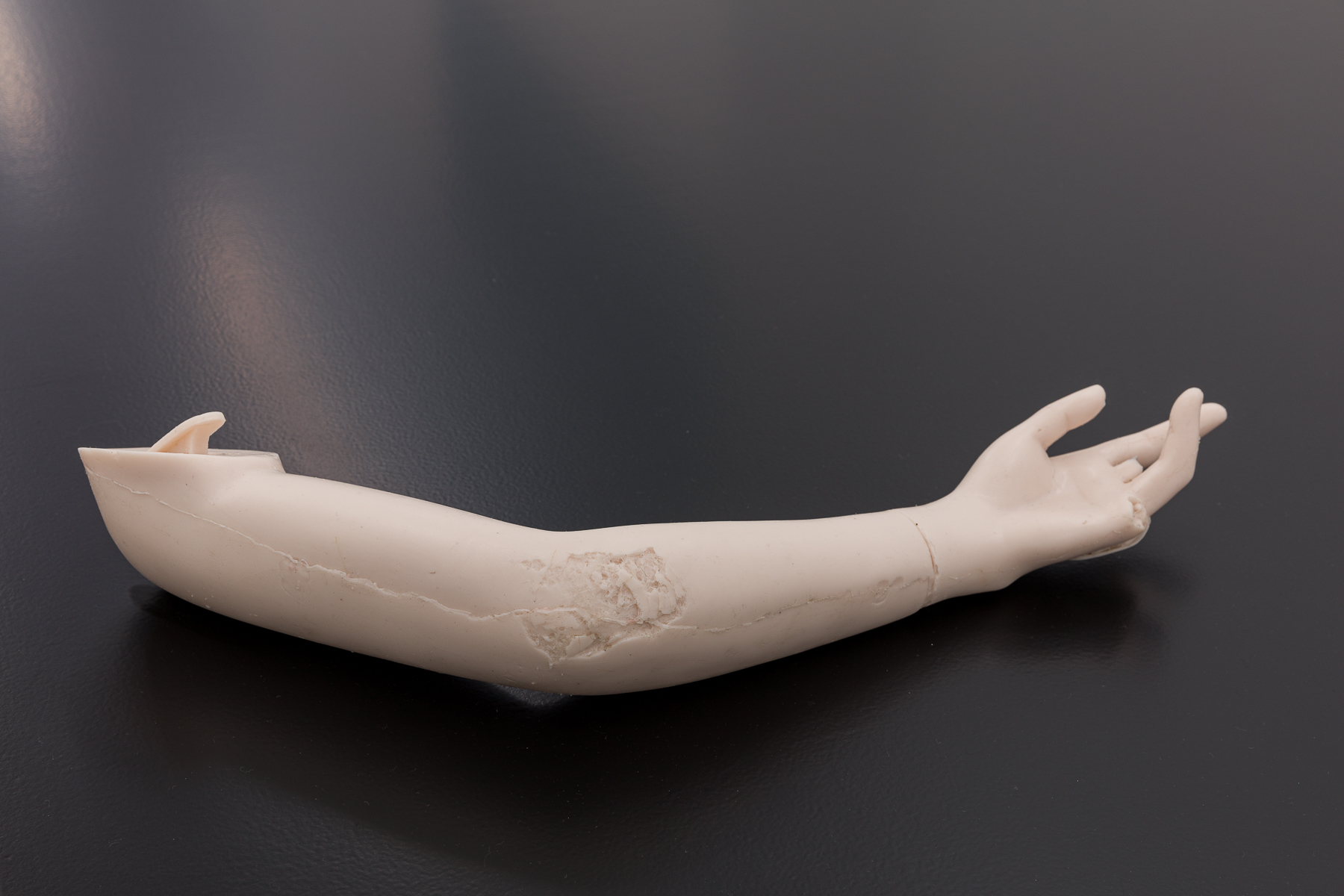 Richard Hoeck
Debris 1, 2020
Holz, Lackfarbe, Silikon
150 x 150 x 50 cm (Podest)
51 x 16 x 8 cm (Arm)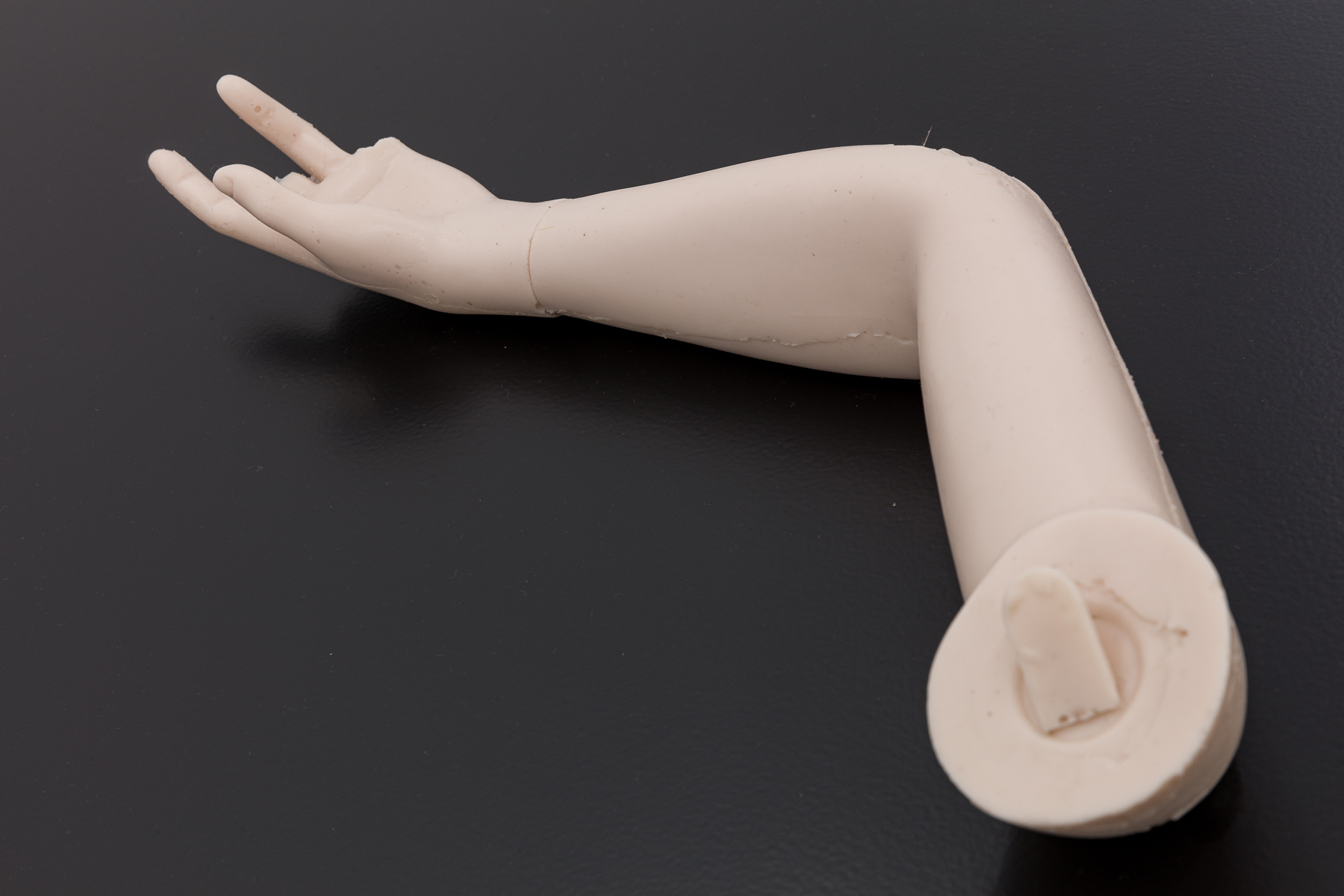 Throwaway thoughts on the ecstasy of becoming trash
by Tenzing Barshee & Camila McHugh
Mannequins block the view of abstract paintings. Made from industrial trash, the canvases have the same dimensions as Der Wanderer über dem Nebelmeer (1818) by Caspar David Friedrich.
Until the Romantic era, the Rückenfigur—a figure seen from behind—generally had a narrative or compositional function in painting. In the second half of the 19th century, the Rückenfigur became autonomous.
These creeps have some personality.
More realistic mannequins are found in discount clothing stores. In high-end fashion boutiques they're usually more abstract: single torso, headless, etc.
In 2009, Richard Hoeck (in collaboration with John Miller) made a mannequin child for Cave Painting, curated by Bob Nickas. It was the only figurative element in an otherwise abstract exhibition. Hoeck and Miller also collaborated on Mannequin Death (2015), a high definition video of a family of gussied up mannequins pushed into a quarry. It's an abstract thought for a mannequin to die.
Stiff plastic people snap and smack upon contact with rock. It's as melodramatic as it is brutal.
Imagine Caspar David Friedrich's dreamy wanderer tossed over the rocky precipice and into the sea of fog. Oil paint cracks.
Romanticism was in part a reaction to early Industrialism. Are the consequences of the 20th century—all of it, the good, the bad—nothing but the tipping over of 19th century idealism? What does that mean in 2020?
Rodin cast truncated torsos in bronze, establishing the potential of the fragmentary body for modern art. Hoeck cast some of his mannequin's broken limbs in silicon, displaying them on a black pedestal.
Disjecta membra—scattered parts—from Horace's Satires, refers to the "limbs of a dismembered poet," implying that even if poetry is torn apart and rearranged, the poet is still recognizable. These limbs are recognizably Hoeck.