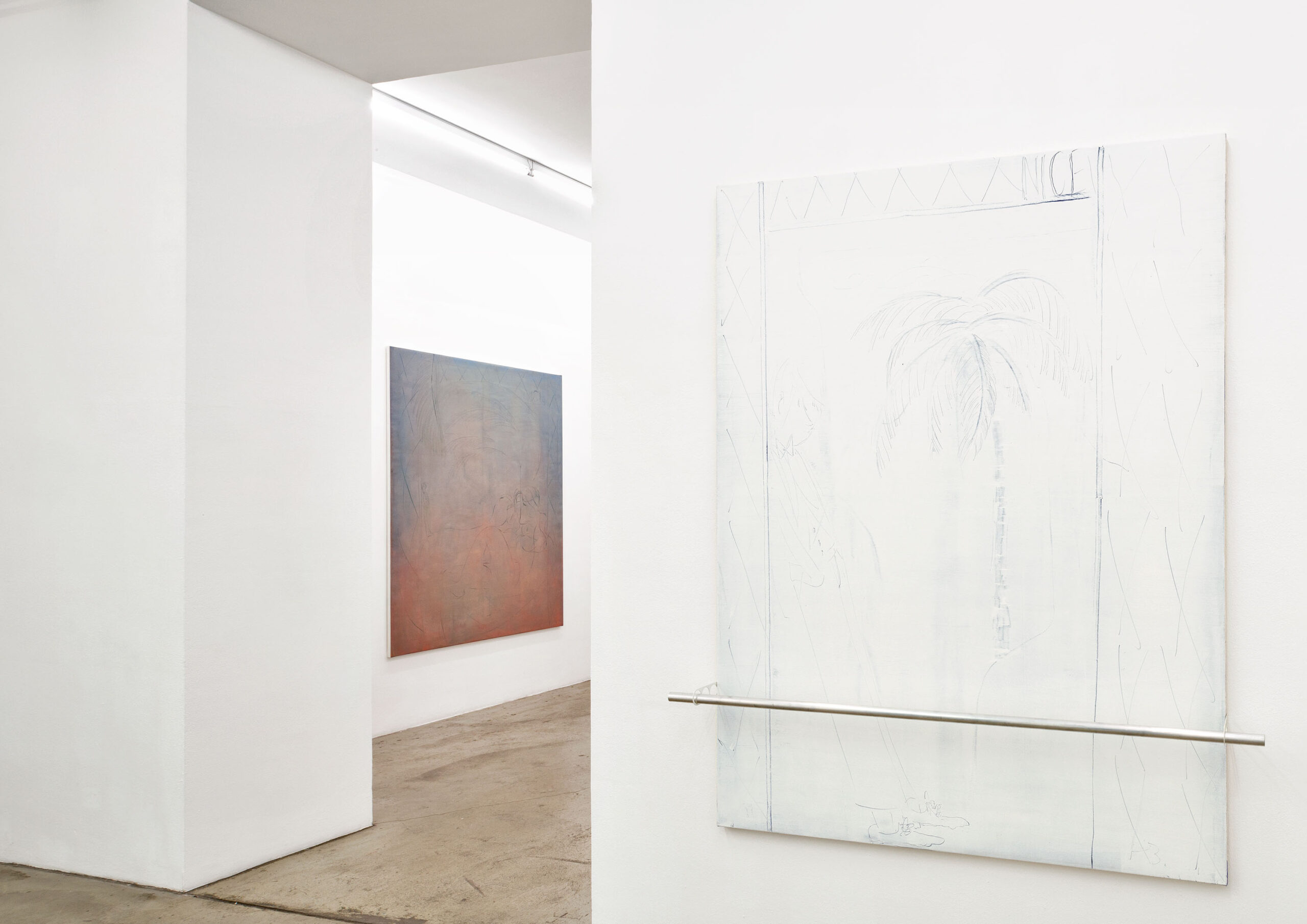 Seit September 2014 lebt und arbeitet Adrian Buschmann an der italienischen Riviera. Das erinnert an Claude Monet, Henri Matisse und Francis Picabia, die ebenfalls in der Umgebung residierten. Auf der Suche nach Inspiration für neue Arbeiten, hegte Adrian Buschmann den Wunsch, seinen Vorbildern nachzuempfinden. Mit Blick aus dem Fenster durch die abfallenden Gebirgszüge der Ligurischen Alpen auf den Badeort Bordighera verspricht die Riviera di Polente fantastische Sonnenuntergänge. Vor dieser Kulisse leitet ein weiterer Abschnitt im künstlerischen Schaffen Buschmanns ein.
Die neuen Gemälde Adrian Buschmanns zeigen Strand-Szenen: Eingeritzt in die Farbschichten auf der Leinwand sind es skizzenhafte Darstellungen von Situationen an der Küste oder in Cafés. Die Buchstaben NICE und X fassen die Bilder ein und schaffen ein Tor zum Motiv: Badegäste im Sand, ein Liebespaar und Menschen im Gespräch vermitteln den Eindruck einer wohl situierten Langeweile. Manchmal trennt ein Geländer sie vom Schauenden, sodass sich eine Grenze zwischen Strand und Promenade, Werk und Betrachter aus dem Motiv ergibt.
Das Bild einer gleichgültigen Gesellschaft, die trinken geht, tanzt und konsumiert, hat Adrian Buschmann in Referenz auf Leon Chwistek schon früher gemalt. In den aktuellen Arbeiten siedelt der Künstler sie um an den Strand, entwickelt aber darüber hinaus das Thema nicht neu. Handlungsmuster, die unabhängig sind von Zeitgeist und Weltgeschehen bilden das zentrale Thema der Werkserie. Aus den fast leeren und ausgeblichenen Bildern spricht Ernüchterung – als wäre der Künstler an seinem Eifer gescheitert und seine Arbeiten von der Sonne geblendet.
Since September 2014, Adrian Buschmann has been living and working on the Italian Riviera. A reminiscence of Claude Monet, Henri Matisse and Francis Picabia, who also resided nearby. On the search for inspiration regarding new works, Adrian Buschmann had the desire to follow in the footsteps of his role models. With the view on the sloping mountain ranges of the Ligurian Alps leading to the sea resort of Bordighera, the area of Riviera di Polente promises fantastic sunsets. It is this scenery that marks the beginning of another phase of Buschmann's artistic oeuvre.
Adrian Buschmann's new paintings show beach scenes: sketchy portraits of situations at the coast or cafés are scratched into the color layers on the canvas. The letters NICE and X encompass the pictures, thereby opening the gate to the motif: bathers in the sand, lovers and people who are talking convey the image of a well-to-do boredom. Sometimes, a handrail separates the scenery from the observer, unfolding from the motif a border between beach and promenade, work of art and observer.
Making reference to Leon Chwistek, Adrian Buschmann has painted this image of a careless society, drinking, dancing, and consuming before. In his current works, the artist relocates this scenery to a beach, but refrains from evolving the theme any further. Patterns that are independent of the current zeitgeist and world affairs are the central theme of the series. The almost empty and faded pictures evoke a sense of disenchantment – as if the artist had failed in his ambition and if his works had been blinded by the sun.