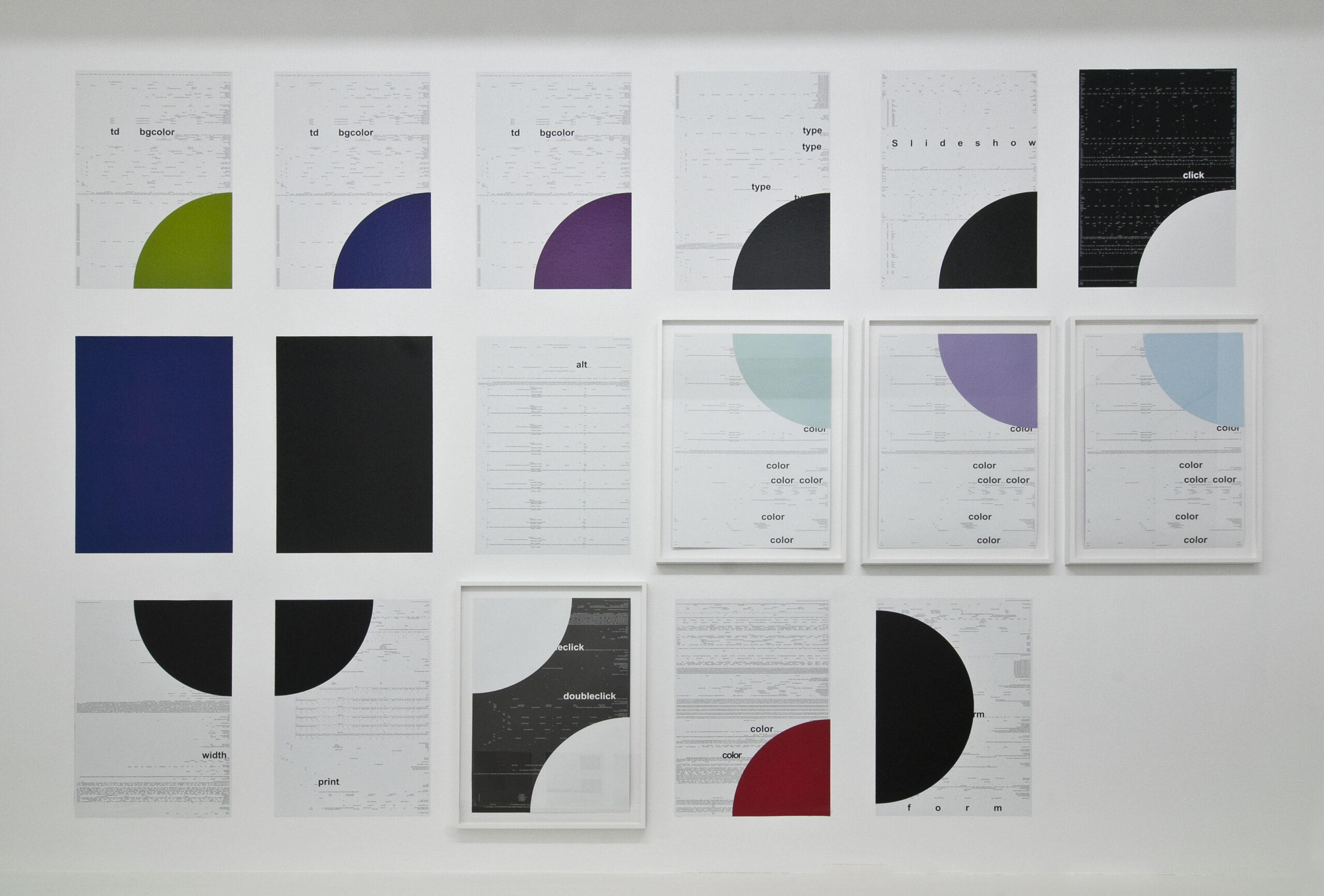 In der Ausstellung werden 4 neue Poster Paintings aus der Serie " The quick brown fox jumps over the lazy dog" gezeigt,  sowie Poster und Postkarten die mit Riedels Malereien im Zusammenhang stehen.
POSTER PAINTINGS (2010-2011)
Riedels Material ist die Kommunikation. Insofern versteht sich seine Vorliebe für Schrift. Nicht aus literarischer Hinsicht, sondern als Träger von Information. Dass sich diese in Riedels Werken oft entleert präsentiert, macht sie als Form erst lesbar. 'The quick brown fox jumps over the lazy dog' ist ein Satz, der zur Darstellung von Schriftarten verwendet wird, da er jeden Buchstaben des Alphabets mindestens einmal enthält und auch als Blindtext gesehen werden kann. Wie auch diese vorliegende Presseinformation es verlangt, setzt sich die Kunst gezwungener Maßen in einer Reihe von beschreibenden Postproduktionen fort. Diese Bewegung greift Riedel auf, in dem er mit zahlreichen Postern und Postkarten ein ursprünglich feststehendes Werk in Bewegung versetzt und diese Distribution zum eigentlichen Gegenstand seiner künstlerischen Aktivität erklärt hat. Für die Hintergründe seiner Poster Paintings, benutzt Riedel Quelltexte ganzer Internetseiten, die er in eine Textbox fließen lässt und als Poster ausdruckt. Die ausgewählten Internetseiten sind solche, auf denen Werke von Riedel Erwähnung finden, wie z. B. http://www.moma.org/collection/artist.php?artist_id=28773 und die Existenz des Kunstwerks dokumentieren. Vor diesem Hintergrund platziert Riedel seine Farbflächen, die den Vergleich mit Warterädchen aus QuarkXpress Zeiten nicht scheuen und somit eine bevorstehende Veränderung der Oberfläche ankündigen oder postulieren, dass der Rechner sich aufgehängt hat. In Riedels Poster Paintings findet die fortlaufende Postproduktion somit einen vorübergehenden Stillstand, zumindest bis neue Kommentare das System Michael Riedel weiterlaufen lassen.
Michael Riedel's fifth solo exhibition at Gabriele Senn Galerie's premises is featuring four new Poster Paintings from his series "The quick brown fox jumps over the lazy dog" as well as posters and postcards related to Riedel's art.
POSTER PAINTINGS (2010-2011)
Riedel's material is communication, which is why his preference for writing is comprehensible. But it is not the literary perspective he sees, rather the information transmitted. Information often seems void in Riedel's work, but becomes readable via its form. The sentence "the quick brown fox jumps over the lazy dog" serves as a mirror for various font types as it contains each letter of the alphabet at least once and can be perceived as a blind-text as well. Art is often required to develop into a series of descriptive post-productions – which is also the case in the press release at hand. Riedel incorporates this development into his art by setting originally fixed works of art in motion using numerous posters and postcards; he then declares this distribution to be the actual subject of his art. In his poster paintings, Riedel uses source texts of entire web pages as background, letting them flow into a textbox and printing them as posters. The web pages chosen are those that mention works by Riedel, such as http://www.moma.org/collection/artist.php?artist_id=28773, thereby serving as a manifestation of the existence of his works of art. This is the background against which Riedel places his colour patches that will compare most favourably to the wheel cursor of QuarkXpress, thereby postulating a change in the surface or a system crash of the computer. Riedel's paintings therefore represent a temporary standstill of continuing post-productions; at least until new comments will set the System Michael Riedel in motion again.